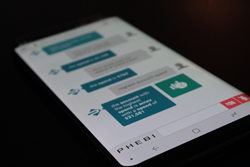 voice-triggered and secure access to timely and sensitive data is the next big thing
RICHMOND, Va. (PRWEB) April 26, 2018
In a complex world unfolding with unprecedented velocity, businesses and individuals are increasingly challenged to make more productive choices via quick, relevant and secure access to key facts and insights. The Phebi Platform securely voice-enables access to your applications, databases or spreadsheets facilitating simple, natural access to data that informs your decisions. The Phebi platform has already been connected to market leading business intelligence tools such as Tableau. With the Phebi API, any enterprise, web, mobile application or database is just a few steps away from secure voice-enabled access.
"The business world is rife with under-used, over-engineered and over-budget information systems and applications housing data that are essential to business operation, but either too complex to use or involving too much overhead to access at key moments in time," says Phebi Founder and CEO Mike Page. Consider opportunities such as a sales person sitting in her car needing access to the latest account information before entering her client's lobby for a meeting; or a less than computer savvy individual being able to initiate voice-based access to customer information during a consumer care engagement. Page says, "Voice-triggered and secure access to timely and sensitive data is the next big thing. The natural interface of voice puts the user in control without requiring diversion of their attention from fulfilling the business imperative."
The same principles hold true for personal use. The Phebi platform extends voice-enabled access to the private domain with the same ease, efficiency and security. Imagine voice querying your personal calendar for the afternoon's commitments while driving to pick-up your children from school or interrogating your personal budget before making a spontaneous purchase online. "We are still exploring personal applications of our technology including the simplification of access for people with special needs or in developing countries," concludes Page.
To learn more about Phebi or to try a demo, visit: http://www.getphebi.com