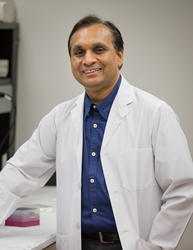 Memphis, TN (PRWEB) April 26, 2018
Out of 5,000 members of the Society of Asian American Scientists in Cancer Research (SAASCR), Dr. Subhash C. Chauhan, professor of Pharmaceutical Sciences at UTHSC was among eight scientists honored for outstanding contributions to cancer research. The awards were presented during a meeting of the American Association for Cancer Research in Chicago on April 15.
SAASCR is a non-profit society sponsored by biotechnology company partners to provide a platform for medical scientists in cancer research to collaborate in diagnosis, prognosis, treatment, prevention and management of various cancers.
Dr. Chauhan is a senior member at West Cancer Center. His primary research interest is to identify and characterize the diagnostic and therapeutic targets for cancer-including ovarian cancer, cervical cancer, prostate cancer and pancreatic cancer. This research, designed to develop new tools for early disease diagnosis, is aimed at biomarkers that aberrantly express or localize in cancer cells.
"Recently we have identified a novel trans-membrane mucin, MUC13, which is highly over-expressed in ovarian and pancreatic cancer cells. This may be a potential biomarker for early cancer diagnosis as well as a good target for antibody guided targeted cancer therapy," Dr. Chauhan said.
About the University of Tennessee Health Science Center
As Tennessee's only public, statewide, academic health system, the mission of the University of Tennessee Health Science Center (UTHSC) is to bring the benefits of the health sciences to the achievement and maintenance of human health, with a focus on the citizens of Tennessee and the region, by pursuing an integrated program of education, research, clinical care, and public service. Offering a broad range of postgraduate and selected baccalaureate training opportunities, the main UTHSC campus is located in Memphis and includes six colleges: Dentistry, Graduate Health Sciences, Health Professions, Medicine, Nursing and Pharmacy. UTHSC also educates and trains cohorts of medicine, pharmacy and/or health professions students -- in addition to medical residents and fellows -- at its major sites in Knoxville, Chattanooga and Nashville. Founded in 1911, during its more than 100 years, UT Health Science Center has educated and trained more than 57,000 health care professionals in academic settings and health care facilities across the state. For more information, visit http://www.uthsc.edu. Follow us on Facebook: facebook.com/uthsc, on Twitter: twitter.com/uthsc and on Instagram: instagram.com/uthsc
About West Cancer Center
West Cancer Center is a multi-specialty, academic, regional cancer center specializing in adult cancer care and prevention. Over 37,000 patients were treated across our 12 locations in 2017 – of which, more than 13,000 were new to our network. A partnership with the University of Tennessee Health Science Center and Methodist Le Bonheur Healthcare has attracted 156 oncology specialists, researchers, and academicians; many from other leading cancer centers, now training the next generation of cancer experts. With the expansion of a new state-of- the-art campus opening in early 2019, West Cancer Center is forecasted to increase annual patient visits to 42,000 and broaden our footprint from 220,000 square feet to more than 300,000 for patient care and research. As a member of the National Comprehensive Cancer Network, West Cancer Center embraces the mission to improve quality, effectiveness, and efficiency of cancer care for all patients regardless of regional location and socioeconomic status. Our commitment to translate cancer science into revolutionary treatment protocols is furthered by the enrollment of 500 patients in clinical trials for 2017 and over 4,210 analytic cases recorded to the tumor registry annually. Focusing on genomic/drug delivery, translational targeting and new clinical pathways also provides patients with the latest, most innovative, personalized cancer treatment plans. West Cancer Center's dedication to clinical excellence extends beyond conventional care with programs and services that focus on the mind, body, and spirit to improve overall wellness and outcomes. For more information, visit westcancercenter.org and follow us on Facebook, Twitter, YouTube and Instagram.