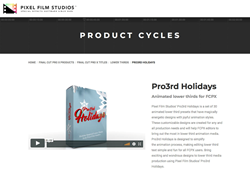 "Add charming winter-cheer with these elaborate lower thirds to any FCPX project!"
ALISO VIEJO, Calif. (PRWEB) April 27, 2018
Pixel Film Studios' Pro3rd Holidays is a set of 30 animated lower third presets that have magically energetic designs with joyful animation styles. These customizable designs are created for any and all production needs and will help FCPX editors to bring out the most in lower third animation media. Pro3rd Holidays is designed to simplify the animation process, making editing lower third text simple and fun for all FCPX users. Bring exciting and wondrous designs to lower third media production using Pixel Film Studios' Pro3rd Holidays.
Pro3rd Holidays features 30 pre-animated magically jolly lower third designs. Choose from an array of adjustable design styles that include both left aligned and right aligned options for each preset. Pro3rd allows FCPX users to drag each preset into the FCPX timeline while able to stylize the text, and recreate designs with easy to use on-screen controls.
Pro3rd Holidays features easy-to-use on-screen controls that allow Final Cut Pro X users to modify presets quickly and effectively. Therefore, select the title layer on the desired preset to reveal on-screen controls in FCPX. Scale, rotate, and position Pro3rd presets easily and efficiently, without affecting text resolution or animation style. Finally, 3-D rotations can be added to each preset to add wondrous animations to each design.
Pro3rd Holidays features lower thirds with magical design elements and energetic animations. In addition, each preset has aligned left and aligned right options for design, giving Final Cut Pro X users added flexibility of creativity. Finally, camera controls give editors control over 3D rotations for a more immersive aspect.
Created for Final Cut Pro X, Pro3rd Holidays presets are completely customizable. At the top right of the Final Cut Pro X screen is a list of parameters that are customizable in the inspector window. Adjust color, text as well as speed easily with just a few clicks of the mouse! Finally, utilize Edit Mode to isolate and adjust text position, color, and font of Pro3rd Holidays.
Established in 2006, Aliso Viejo, California-based Pixel Film Studios is an innovative developer of visual effects tools for the post-production and broadcast community. Their products are integrated with popular non-linear editing and compositing products from Apple FCPX. Apple, the Apple logo, Mac OS X, and Macintosh are registered trademarks of Apple Inc. in the U.S. and/or other countries. All other trademarks and trade names are the property of their respective owners.