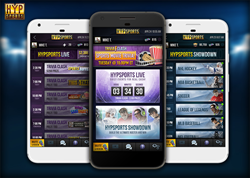 The early success of Trivia Clash validates our vision to expand HypSports' schedule of competitive events.
ORLANDO, Fla. (PRWEB) April 25, 2018
HypGames, Inc — an indie game company in Orlando, FL — announced that its interactive game platform HypSports added a free trivia game show, Trivia Clash. The scheduled competition, which runs multiple times each day, is HQ for sports fans and includes a cash prize. It is the newest addition to the company's innovative sports and esports platform, where fans compete around the world, every day, all year long.
Trivia Clash joins HypSports' original collection-based fantasy game, HypSports Showdown, and is the first of many new games scheduled by HypSports as part of its new daily programming. Trivia Clash is free to play and offers a cash payout for winners. Additionally, players receive in-game rewards which can be used in HypSports Showdown for their basketball, football, hockey, baseball, soccer and League of Legends rosters and leagues.
Since soft launching Trivia Clash, player response has been phenomenal with very strong engagement and retention rates.
"The early success of Trivia Clash validates our vision to expand HypSports' schedule of competitive events. We're a fan-focused game company and with Trivia Clash, we've launched the first of many new games that will live in a single app and allow a large variety of global sports fans to square off in year-round social competition," said Mike Taramykin, CEO of HypGames, the producer of HypSports.
HypSports is available to download free on the App Store for iPhone and iPad and Google Play for Android devices.
For more information about HypSports, visit: hypsports.com.
A full press kit with art and logos is available here: HypSports Trivia Press Kit
About HypSports
HypSports is developed by a team of sports games, mobile games, and fantasy sports veterans, with decades of experience developing sports-focused products. With a successful track record of more than two decades of hit video game development, the HypSports team knows sports fans and gamers. Their first company, Hypnotix, created the popular Outlaw Sports series before being acquired by Electronic Arts (NASDAQ: "EA") in 2005. At EA SPORTS, the team led the Tiger Woods PGA TOUR franchise and launched the first groundbreaking free-to-play versions of Madden NFL.
HypSports gamifies the world of sports and esports and delivers it all to fans in a single free-to-play app while building a community of live competition for sports fans and gamers alike. HypSports believes that the future of sports is in direct consumer engagement and micro-transaction, creating new opportunities that go beyond traditional sponsorship, licensing and merchandising models. HypSports' unique combination of sports, esports and live daily content creates always-on engagement for fans, teams, leagues and their sponsors.