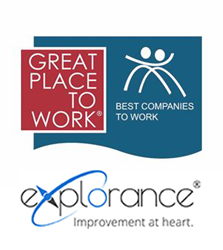 By focusing on professional and personal improvement, the continuous flow of small successes builds up to an overall business success
MONTREAL (PRWEB) April 26, 2018
eXplorance, the leading provider of Learning Experience Management (LEM) solutions, announces today that it is ranked in the top ten on the Great Place to Work® Institute's Canadian list, making it the first ranked organization from the province of Quebec.
This year's list received over 400 applications and over 80,000 employees participated in the 2018 "Best Workplaces™ in Canada" survey. The 2018 Best Workplaces™ in Canada list is compiled based on two criteria: confidential employee survey results (two-thirds of the ranking) and an in-depth review of the organization's culture (one-third of the ranking). This combination is designed to offer an accurate company assessment and factors in five trust-building dimensions: credibility, respect, fairness, pride, and camaraderie.
eXplorance's corporate culture is based on the organizational performance, continuous improvement, consideration for others, trust and reciprocity. "Our 'policy of none' encourages individual free-will that fuels our growth and business performance," says Samer Saab, CEO of eXplorance. "By focusing on professional and personal improvement, the continuous flow of small successes builds up to an overall business success," Saab adds.
Saab was asked to join a panel discussion at the Great Place to Work® conference on eXplorance's innovative business culture. During the panel discussion, which was held yesterday at the Metro Toronto Convention Centre, Saab explained the notion of "Policy of Non-Policy". Steven Fitzgerald, President at Habanero Consulting Group and Manu Varma, VP of HR at Traction on Demand also participated in a lively discussion on the topic.
To find out more about why and how eXplorance's company culture has resulted in business success, read The law of Reciprocity, and how it supports strong business performance or consult eXplorance's About Us page.
About eXplorance
eXplorance, a Learning Experience Management (LEM) solutions provider, empowers organizations in making the right decisions with fact-based learning experience analytics. eXplorance's offerings, Blue® and Bluepulse®, help instill a culture of continuous improvement by assessing (e.g., course evaluations, institutional surveys, 360 degree feedback reviews, advisor assessments), analyzing, and improving stakeholder needs, expectations, skills, knowledge, and competencies.
Founded in 2003, eXplorance is a privately held corporation based in Montreal, Canada with offices in APAC, Europe, and Latin America. eXplorance is deemed one of the Best Workplaces by the Great Places to Work Institute®, having been awarded this title for five consecutive years. eXplorance's clients include academic institutions such as the University of Melbourne, University of Pennsylvania, University of Toronto, Zayed University, Del Mar College, Bowdoin College, IESE Business School, Xi'an Jiaotong-Liverpool University, University of Auckland, and Liverpool John Moores University and organizations including Aramco, National Bank of Canada, and NASA.
About Great Place to Work®
Great Place to Work® is the global authority on high-trust, high-performance workplace cultures. It is a global research and consulting firm with a mission to build a better society by helping companies transform their workplaces. Great Place to Work® provides the benchmarks, framework, and expertise needed to create, sustain, and recognize outstanding workplace cultures. In Canada, Great Place to Work® produces both industry and demographic specific Best Workplace™ lists. This is part of the world's largest annual workplace study, which culminates in a series of national lists in over 50 countries, including the study's flagship list of 100 Best Companies published annually in Fortune magazine. Globally, this survey represents the voices of 11 million employees, which are the primary determinant used in selecting winners. There's only one way to get on this list – your employees have to put you on it.