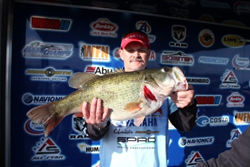 It's our chance to give back to our military heroes and show them our gratitude for what they do for our great country. - Garrick McPherson
FREMONT, Calif. (PRWEB) April 26, 2018
Data Center infrastructure company Instor Solutions, Inc. announced it is hosting the Instor Bass Classic Invitational in Lewisville, Texas this April to benefit the Hookset Brothers foundation.
Set for April 27, the event will pair amateur anglers with professional bass fishermen for a day of competitive bass fishing on Lewisville Lake north of Dallas. The event features 20 teams of three anglers and will include pro anglers such as Jesse Timmons, Keith Glasby, Kevin Dritschler, Mike "Big Bass" McWhorter and many others.
Proceeds from the tournament will benefit Hookset Brothers Combat Recovery, a non-profit organization dedicated to supporting veterans who are suffering from combat-related post-traumatic stress disorders by taking them on outdoor trips to hunt, fish and partake in other activities. To learn more, go to http://www.hooksetbrothers.org.
The tournament runs from 7:30 a.m. to 2 p.m. April 27. First place wins $1,500; second place takes $1,200; third place gets $900, with all winners receiving plaques. A one-day all-water license is required for all participants. Lunch, weigh-in and awards will follow at 2 p.m. at Sneaky Pete's in Lewisville.
Garrick McPherson, Director of Sales for Instor's Southwest territory, helped organize the event. He said the tournament is a chance to enjoy a day of fishing while helping a good cause.
"We are excited to see this unique event come together," McPherson said. "Everyone will have a good time and it's for a great cause. It's our chance to give back to our military heroes and show them our gratitude for what they do for our great country."
McPherson is a competitive angler himself, having won the 2017 Kings of Cowtown event. He also won the 2017 Bass Champs Angler of the Year award and has been a three-time Bud Light Trail Angler of the Year.
About Instor Solutions, Inc.
Instor is the global leader in rapid deployment of Data Center Infrastructure. Our core service offering, Data Center Fit-Up, packages the design, procurement and build-out of the white space inside a data center. Our team's technical and industry expertise enables the rapid build out of our customer's data centers, so they can focus on their core business. Headquartered in the San Francisco Bay Area, and with regional offices throughout for complete U.S. coverage. Instor operates throughout the U.S., the United Kingdom and in the European Union.