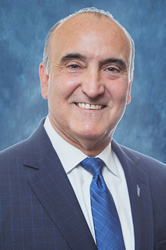 For over 40 years VEDC has helped provide capital and educational resources to small businesses in underserved communities. I'm proud of what our non-profit has accomplished.
SHERMAN OAKS, Calif. (PRWEB) April 27, 2018
The Board of Directors of VEDC, a leading non-profit Community Development Financial Institution (CDFI), announced the election of Scott Aney as chairman of the board of directors. Aney previously served as the vice-chair of the board and stepped into the new position at the start of the organization's fiscal year on April 1st. Aney succeeds Nishen Radia who completed his scheduled two-year term as chairman.
Aney, a commercial banking executive, has served the southern California and Nevada markets for more than 30 years. He is currently senior vice president and regional manager for City National Bank, leading the bank's Nevada commercial lending operation. Previously, Aney served in similar positions in the Los Angeles, Ventura and Santa Barbara markets for more than 25 years. As VEDC's incoming chairman of the board, Aney will continue to lead the organization in its mission to create and sustain jobs. "Nishen's chairmanship provided real opportunities for VEDC to serve businesses and strengthen the economy through lending and technical assistance," said Aney. "For over 40 years VEDC has been providing capital and educational resources to small businesses in underserved communities. I'm proud of what our non-profit has accomplished and, like all of our board members, am passionate about our mission."
Nishen Radia will remain on the board and its executive committee as its immediate past chairman. Radia said, "It has been an honor to serve as chairman, and I am delighted to hand the baton to Scott. Along with my fellow board members, I am confident that Scott has the background and professional expertise to lead the organization. He has served as a member of the Board for 12 years and as a member of the executive committee for most of that time. He knows the organization and the needs of small businesses in diverse markets such as California and in other parts of the country and brings a strong lending background."
In addition to the election of Aney as chairman, two board members have retired from their service. Dutch Ross, a 15-year board member, and Anne Williams, who has served the organization for seven years, left board service at the end of the fiscal year on March 31st. "Although Dutch and Anne have announced their planned retirement from the board, they will both continue to serve the organization," said Aney. "I'm pleased to be able to retain the expertise of two important business leaders and thank them for their service to the community."
Effective April 1st, the organization's executive committee includes, along with Aney, Ariel Berrios, vice chairman of the board, Shala Tavakoli, secretary, Byron Reed, treasurer, Nishen Radia, immediate past chairman and Pegi Matsuda, member at large. Along with members of the executive committee, additional board members include Ron Meraz, Manual Rosales, Leandro Tyberg and Ray Vasquez. Several new board members will be announced soon.
About VEDC
VEDC works to create and sustain jobs and businesses in California, Illinois, and New York by making high-quality small business development services more available, sustainable and impactful. As a non-profit CDFI and small business lender with community-based loan funds and unique technical assistance programs, VEDC supports minority and low-to-moderate income entrepreneurs with powerful lending solutions and educational resources.