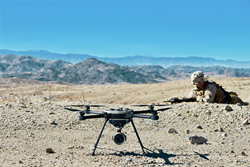 DENVER (PRWEB) April 26, 2018
Aeryon Defense USA released details of their multi-mission Defense and Federal Government Group 1 Vertical Takeoff and Landing (VTOL) small unmanned aircraft system (sUAS), the R80D SkyRaider, which will be shown publicly for the first time next week at AUVSI XPONENTIAL in Denver.
Aeryon Defense is a U.S. defense contractor delivering the next-generation of advanced sUAS to U.S. Department of Defense and Federal Agencies. The Aeryon Defense team provides rapid solutions development through a hands-on, agile group of systems engineers, program managers, and support and training professionals that are able to quickly respond to the unique sUAS requirements of its DoD and Federal Government customers.
The R80D SkyRaider is Aeryon Defense's most advanced military-grade sUAS, delivering a range of versatile Group 2-3 payload capabilities with the agility and single-operator deployment footprint of a proven Group 1 VTOL aircraft. With its ability to carry and deliver multiple payloads up to 4.4 lbs, an open architecture, and the fastest, most powerful embedded artificial intelligence (AI) computing devices available on a sUAS, the R80D SkyRaider is redefining what's possible with a man-packable drone.
Aeryon Defense transforms the Aeryon Labs' commercial product into the R80D SkyRaider to meet the specific requirements of the U.S. Department of Defense and Federal Government.
The SkyRaider: One Platform, Many Missions
The SkyRaider's expanded carrying capacity, open payload architecture, and dynamic and responsive flight control, provides an unprecedented level of flexibility in a single sUAS. Core capabilities include:
Tactical Intelligence Surveillance and Reconnaissance (ISR)
The SkyRaider carries a suite of long-range, high-resolution, stabilized daylight and IR imaging payloads. These are supplemented with a front-mounted EO/IR payload for day and night situational awareness and secondary view-angle ISR when carrying non-optical payloads.
Persistent Overwatch
With Automatic In-Air Replacement (AIR) operators can maintain persistent eyes on target by automatically swapping multiple SkyRaiders in real time - all while keeping sensors on target. A field-installable power tether, co-developed with Hoverfly Technologies Inc., enables indefinite fixed-location overwatch for forward operating base security or similar missions.
Payload Delivery
With the ability to rapidly attach, carry and deliver payloads, SkyRaider can retrieve and deliver nearly any object up to 4.4lbs for forward resupply, asset extraction or other specialized missions.
An Open Architecture for Additional Mission Types
In addition to the advanced payloads developed by systems engineers within Aeryon Defense, Aeryon's new Payload Development Kit (PDK) extends payload development capability to the end users and third-party integrators, enabling the rapid development of application-specific payloads for the SkyRaider platform. The PDK enables full integration with the SkyRaider airframe, to allow for a variety of possible missions including:
-Signals Intelligence (SIGINT) and Electronic Warfare (EW)
-Counter-IED
-Comms Relay
-CBRNe
The Aeryon Application Development Kit enables integration with common Ground Control Station or other host software systems, to control SkyRaider in a "system of systems" deployment.
The SkyRaider was developed through a process where the end-user defined what they needed in a man-packable drone. Aeryon Defense is committed to a joint product development process that is informed by their Defense and Federal customers at every stage. Key technological advancements in the SkyRaider include:
AI at the Edge
With multiple embedded NVIDIA TX2 processors, the SkyRaider is a flying supercomputer with an engine for real-time artificial intelligence at the network edge, including object detection and classification.
Dark Mode
When missions call for operation in denied RF environments, Dark Mode enables semi-autonomous flight plans without an active C2 link. This enables applications such as beyond visual line of sight (BVLOS) payload emplacement and clandestine ISR in non-permissive environments.
GPS Zeroize
GPS Zeroize ensures that no sensitive information falls into enemy hands. With GPS Zeroize turned on, no location records are stored, and no video is recorded on the aircraft.
Aeryon Defense USA will begin delivery of the SkyRaider to U.S. military customers in May 2018.
Tom Jackson, Vice President & General Manager, Aeryon Defense USA, Inc. will publicly unveil the R80D at an Apr 30th press conference at AUVSI XPONENTIAL in Denver, CO. The SkyRaider will also be on display at Booth #2207 on the exhibition floor.
To learn more about the R80D SkyRaider for U.S. DoD and Federal Agencies visit http://www.aeryondefense.us/r80d
--
About Aeryon Defense USA
Based in Denver, Colorado, Aeryon Defense USA is a U.S. defense contractor delivering the next-generation of advanced sUAS to U.S. military forces and government agencies. Led by Jackson, a retired U.S. Marine Corps Officer and AH-1W Super Cobra pilot, Aeryon Defense has assembled a team of proven military UAS experts who understand the current and future threat environment, and are equipped with the resources to deliver innovative solutions to meet the needs of defense and federal users for years to come. Aeryon Defense USA is a wholly owned subsidiary of Aeryon Labs Inc. Canada. Visit aeryondefense.us to learn more.