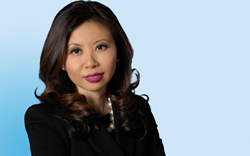 This is a benchmark agnostic, 'best ideas' portfolio of exceptional small companies that we believe have the potential to grow into exceptional large companies.
NEW YORK (PRWEB) April 26, 2018
Fred Alger Management, Inc. ("Alger") is pleased to announce the Alger Small Cap Focus Strategy (the "Strategy") has celebrated its three-year anniversary. The Strategy is a focused portfolio of approximately 50 high-conviction, small capitalization stocks managed by Amy Y. Zhang, CFA, who joined Alger in 2015. The exceptional track record Amy and the Alger team have built is especially notable and is garnering significant attention from all types of investors.
"I am gratified that our unique approach to small cap investing has provided clients with strong long-term returns over the past three years. This is a benchmark agnostic, 'best ideas' portfolio of exceptional small companies that we believe have the potential to grow into exceptional large companies," said Ms. Zhang. "Common characteristics we look for in these companies are defensible competitive positions, sustainable revenue growth, high financial quality, and strong management teams. We seek to invest in companies that have the potential to double their revenue stream in five years with profitably to fuel future EPS growth."
The strategy has grown to nearly $1 billion in assets, which is proof of the team's effective investment process and the strategy's outperformance of the benchmark by more than 500 basis points since its inception (13.84% gross of fees, 12.99% net of fees vs. 8.76% for the Russell 2000 Growth Index as of 3/31/18).
The Small Cap Focus strategy has had very strong risk and return statistics versus its peers in the eVestment U.S. Small Cap Growth Equity universe, as demonstrated by its ranking in the top quartile for Returns (16), Alpha (16), Information Ratio (18), Sharpe Ratio (19), Upside Market Capture (24), and Downside Market Capture (25), for the three-year period ended 3/31/18 out of 189 strategies.
"High-conviction, focused portfolios are a core competency of Alger's investment team. Our in-depth, fundamental research process, which we have refined for more than 50 years, enables our portfolio managers to construct focused portfolios with confidence. Alger's Small Cap Focus Strategy is an exceptional example of that," said Dan Chung, CEO and CIO of Alger.
Recent Study Indicates Shifting of Client Assets to Focused Strategies
A recent report by Greenwich Associates, The Power of Focus: Looking for Alpha in a Sea of Beta, indicates that a significant shifting of client assets to focused strategies will continue in 2018 and beyond. The study notes that more than half of institutional investors have increased their exposure to focused strategies, which are defined by 50 or fewer holdings, over the past 12-18 months because they view focused strategies as a source of alpha. Additionally, Greenwich Associates found that interest is likely to accelerate over the next 24 months among a majority of study participants.
"The Greenwich study and its results are supportive of feedback from our clients, who are looking for solutions to drive alpha in order to meet their long-term goals. We believe our suite of focused portfolios, including Alger Capital Appreciation Focus, Alger SMid Cap Focus, and our newest focused strategies, Alger 25 and Alger 35, provide investors with 'best ideas' strategies with strong alpha potential," added Mr. Chung.
About Alger
Founded in 1964, Alger is widely recognized as a pioneer of growth-style investment management. Headquartered in New York City with affiliate offices in Boston and London, Alger provides U.S. and non-U.S. institutional investors and financial advisors access to a suite of growth equity separate accounts, mutual funds, and privately offered investment vehicles. The firm's investment philosophy, discovering companies undergoing Positive Dynamic Change, has been in place for over 50 years. Weatherbie Capital, LLC, a Boston-based investment adviser specializing in small and mid-cap growth equity investing, is a wholly-owned subsidiary of Alger. For more information, please visit http://www.alger.com.
Past performance is not an indication or guarantee of future results. A complete list and description of Fred Alger Management, Inc. composites and performance results is available upon request: 800.223.3810 or http://www.alger.com.
Risk Disclosures: Investing in the stock market involves gains and losses and may not be suitable for all investors. Growth stocks tend to be more volatile than other stocks as the prices of growth stocks tend to be higher in relation to their companies' earnings and may be more sensitive to market, political, and economic developments. Investing in companies of small and medium capitalizations involve the risk that such issuers may have limited product lines or financial resources, lack management depth, or have more limited liquidity.
The Greenwich Associates 2017 Focused Strategies Study and The Power of Focus paper were sponsored by Fred Alger & Company, Inc. Fred Alger & Company, Inc. is not affiliated with Greenwich Associates, LLC, or its affiliates.