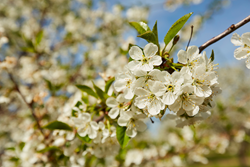 DOOR COUNTY, Wis. (PRWEB) April 27, 2018
Spring has finally sprung in Door County. Celebrate the season with the blossoming beauty of over 2,500 acres of cherry orchards. Get lost in endless outdoor activities or celebrate spring with a special event. Visitors can plan their vacation today at DoorCounty.com or by calling the Door County Visitor Bureau toll free at 800-527-3529.
May Events

Learn about the shipbuilding industry at the annual Shipyard Tours at Fincantieri Bay Shipbuilding, Saturday, May 5.
Dust off the running shoes at the Blossom Run in Egg Harbor, Saturday, May 12.
Taste lake to table dining throughout Baileys Harbor during the Blessing of the Fleet Festival, May 19-20.
Explore one-of-a-kind art at the Spring Art Crawl throughout Ellison Bay, May 19-20.
Celebrate Memorial Day Weekend at the annual Maifest Celebration in Jacksonport, May 26-27.
Discover nature across the peninsula at the Door County Festival of Nature, May 24-27.
Did you know?
Cherry blossoms can be seen in mid-May. Apple blossoms can be seen 1-2 weeks after cherry blossoms. Visit DoorCounty.com for the blossom report.
On-Going Spring Activities
Segway the Door Tours - Glide through blossoms and view picturesque water views on the Ellison Bluff Tour.
The Ridges Sanctuary – Hike at Wisconsin's first land trust and discover 16 of the 49 native orchids of Wisconsin.
Door County Coastal Byway - Drive the beautiful 66-miles loop to see blossoming beauty across the peninsula.
The Orchards Golf Course – Golf on the beautiful 200-acre property featuring orchards, meadows and hardwoods. Door County offers 11 golf courses across the peninsula.
Can't Miss Arts & Culture Event
May 27-28, 2018 – Enjoy beautiful art, music, food and more at the Fine Art Fair at Sunset Park in Sturgeon Bay.