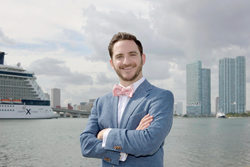 Nobody expects to get hurt during their vacation, but due to the frequency of cruises and high number of passengers, injuries onboard occur commonly, due to the cruise lines' negligence.
MIAMI (PRWEB) April 26, 2018
Recognized as the "Cruise Capital the World," Miami is home to the world's busiest cruise port. Port Miami sees nearly 5 million cruise passengers annually. "Nobody expects to get hurt during their vacation, but due to the frequency of cruises and high number of passengers, injuries onboard occur commonly, due to the cruise lines' negligence," said attorney Brandon L. Chase, founder of the Law Offices of Brandon L. Chase, P.A., which focuses on personal injury and cruise ship accidents.
Chase, who used to represent the cruise lines as a defense lawyer, lists the following four important tips regarding what cruise passengers need to know in the event of an injury onboard a cruise ship:
No. 1: Immediately report the accident. If you are injured while on a cruise, it is important to notify the ship's crew and report to the medical facility as soon as you can. Additionally, try and take photographs of the scene where the accident occurred. "Pictures of the scene at the time of the accident could be crucial in a lawsuit against the cruise lines," implored Chase. "Remember that the cruise line will remedy the situation as soon as they can and then take their own photos, which will not be helpful in proving how the incident occurred."
No. 2: Notify the cruise line in writing. When you go on a cruise, you are legally bound by the ticket contract. This contract contains certain provisions that limit your legal rights and provide necessary steps in order to bring a lawsuit. One unique requirement that cruise lines have added into the ticket contract is that within six months of the date of the injury, the cruise line must be put on notice of the claim. This must be done in writing and sent to the address located in the contract. "Usually when a passenger is injured, their focus rests with getting the proper treatment," stated Chase. "I have unfortunately had to turn away severely injured passengers because they contacted us after the deadline."
No. 3: File your lawsuit ASAP. In addition to the notice requirement, there is also a shortened time frame in which to file the lawsuit. Federal law provides for a three-year statute of limitations in which to file a maritime claim. However, cruise lines have successfully been able to limit the time to one year. "A passenger must focus on getting better, find an attorney, and have their lawsuit filed all within a year," Chase stressed.
No. 4: You will likely be suing in Miami. Most of the cruise lines have what is called a "forum-selection clause" in the contract. This provision all but requires that you file your lawsuit in Miami. "The 'big three' — Norwegian Cruise Line, Royal Caribbean, and Carnival — as I like to refer to them, have a provision that governs where the lawsuit must be brought," Chase explained. "If a cruise from one of those lines touched an American port during your vacation, you can almost guarantee you will be coming to Miami for your lawsuit. This includes coming for a deposition, a medical examination in which a doctor hired by the cruise line will perform an evaluation of your injuries, and possibly even trial. It is costly, time-consuming, and takes an emotional toll. That is why it is extremely important to find an experienced personal injury lawyer, specifically one with Federal court experience and an acute knowledge of how the cruise lines typically defend injury cases."
About Law Offices of Brandon L. Chase
Brandon L. Chase and his firm help those who have faced life's most challenging problems. They represent those who have suffered devastating, life-altering injuries at the hands of someone else. The firm has a deep knowledge of how to best navigate the legal system and obtain justice for their clients. Mr. Chase is admitted to practice throughout Florida in both state and Federal courts. He is a member of the Dade County Bar Association, Broward County Trial Lawyers Association, and Florida Justice Association. He has been selected as a Rising Star Super Lawyer for the past three years in a row and has attained an AV Preeminent peer rating by Martindale-Hubbell. The firm's focus is on aggressively representing their clients' rights when they suffer a serious injury, whether it be from a car accident, slip and fall, medical malpractice, wrongful death, or injury onboard a cruise ship. For more information, please call (305) 677-2228, or visit http://www.chasejustice.com. The law office is located at 25 Southeast 2nd Ave., 8th Floor, Miami, FL 33131 and serves clients state and nationwide.
About the NALA™
The NALA offers small and medium-sized businesses effective ways to reach customers through new media. As a single-agency source, the NALA helps businesses flourish in their local community. The NALA's mission is to promote a business' relevant and newsworthy events and achievements, both online and through traditional media. The information and content in this article are not in conjunction with the views of the NALA. For media inquiries, please call 805.650.6121, ext. 361.