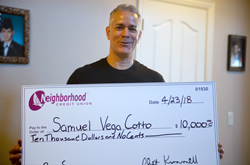 It's also important to have a savings account for your everyday use as well as have a spare account for emergencies.
MIDLOTHIAN, Texas (PRWEB) April 26, 2018
As Financial Literacy Month comes to a close, one Midlothian man experienced firsthand the difference credit unions make in people's lives.
Samuel Vega Cotto awaited what he thought was going to be a prize of $500 only to step on his front porch to see Neighborhood Credit Union leadership with an oversized check for $10,000. The actual $10,000 prize was deposited directly into his Prize Savings Account at the credit union.
"I don't know what to say," Vega said. "It feels good."
Vega has been a member of the credit union for three years where he and his family all have accounts. He said he knew of the prizes the credit union gives away each month but never thought he would win anything more than $5.
"This is our way of showing our appreciation to Mr. Vega for being a fantastic member," said Francis Santana, vice president of business development. "He is a fantastic saver and we really appreciate it."
Dallas-based Neighborhood Credit Union established the Prize Savings Account 10 years ago to encourage people to save more money, at a time when the personal savings rate had dropped to one of the lowest levels in U.S. history. But by being a consistent saver, Vega firmly believes that it's critical to always have savings built up for both regular use and emergencies.
He also had advice for younger individuals looking to learn to save saying to take advantage of their company's 401K and have other savings accounts that you're not allowed to touch.
"You never know when something is going to happen," Vega said. "So it's important to have a job where you have an employer that supports you by providing some funds for your retirement. It's also important to have a savings account for your everyday use as well as having a spare account for emergencies."
See the Video of the surprise delivery: https://www.youtube.com/watch?v=DyBQ7t0FYIs&t
How the Prize Savings Account works: Neighborhood Credit Union members receive one drawing entry for every $25 monthly average balance in their Prize Savings Accounts. The greater the savings, the greater the chance a member has of winning. Members are eligible for monthly drawings up to $5,000 and quarterly $10,000 drawings. At the start of each year, a winner is drawn for the newly-increased $49,999.99 grand prize based on the average monthly balance in the savings account at close of business December 31. The upcoming 2018 drawing marks the 10th Anniversary Grand Prize Savings drawing for Neighborhood Credit Union.
About Neighborhood Credit Union: The oldest credit union in Dallas (chartered April 18, 1930), Neighborhood Credit Union is a not-for-profit financial organization serving Dallas, Denton and Ellis counties, as well as the City of Arlington. With branches in Dallas, Richardson, Arlington, Mesquite, Duncanville, Waxahachie, Lancaster, Grand Prairie, Coppell, and Highland Village, and assets topping $600 million, Neighborhood Credit Union has a membership of 49,000 and continues to welcome new members daily. For more information, call (214) 748-9393 or visit http://www.myncu.com.