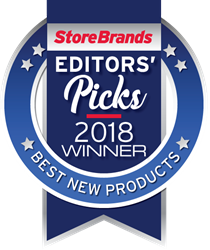 "Our editorial team spent about three days judging entries and we were very impressed with many of the items, which exhibit many of the important attributes needed today for successful store brands," said Lawrence Aylward, editor-in-chief of Store Brands.
CHICAGO (PRWEB) April 30, 2018
Store Brands magazine, published by EnsembleIQ, announces the winners of its third-annual Editors' Picks Awards program. Open to private label manufacturers and retailer self-manufacturers, the Editors' Picks Awards program honors the best new product concepts made available as private brands.
To be eligible for entry, the concepts must have been introduced between January 2017 and December 2017. A team of editors judged food and beverage entries based on taste and mouthfeel, innovativeness, being on-trend and appealing presentation. Non-food products were judged on functionality and usefulness, innovativeness, being on-trend and visual presentation.
More than 200 products were entered from nearly 60 companies. Up to three awards were given in 28 categories.
"Our editorial team spent about three days judging entries and we were very impressed with many of the items, which exhibit many of the important attributes needed today for successful store brands," said Lawrence Aylward, editor-in-chief of Store Brands. "Congratulations to our winners and to all of the companies who participated in the program."
Here's a list of the 2018 Editors' Picks winners:
Baby Food

Gold: The Kroger Co. — Simple Truth Organic Fruit & Veg Puree Blueberry, Banana, Kale & Spinach
Silver: Baxters North America — Little Journey Sweet Pea White Chicken Puree (Sold at Aldi)
Baking Mix

Gold: The Mason Jar Cookie Co. — Celebrate! Cookie Mix and All Natural Buttermilk Chocolate Chip Pancake Mix
Beverages/coffee (Ground And Whole Bean)

Gold: Trilliant — Uniquely J Peruvian Coffee, Organic and Fair Trade (Sold by Jet.com)
Silver: Paramount Roasters — Barissimo Fair Trade Certified Organic Peru Whole Bean Medium Roast (Sold at Aldi)
Bronze (Tie): The Kroger Co. — Hemisfares 100% Jamaica Blue Mountain Coffee Whole Bean Medium Roast; Farmers Brothers — Giant Eagle Market District Direct Trade Colombia Medium Roast
Beverages/Coffee (Single Serve)

Gold: Mother Parkers Tea and Coffee — Nespresso Compatible Espresso Capsules
Silver: Trilliant — Uniquely J Organic, Fair Trade Badass Expresso, Intensity 10 (Sold at Jet.com)
Beverages/Juices and Smoothies

Gold: OKF Corp. — OKF Green Smoothie
Silver: Smart Juice — SimplyNature Organic Antioxidant Power (Sold by Aldi)
Bronze: Lassonde Beverages Canada — Specially Selected 100% Pure Black Cherry Juice (Sold by Aldi)
Beverages/Milk

Gold: HP Hood — Friendly Farms Chocolate Almond Milk (Sold at Aldi)
Silver: Jasper Products — Friendly Farms Coconut Milk Original (Sold at Aldi)
Beverages/Sports Drinks

Gold: The Kroger Co. — Simple Truth Organic Electrolyte Solution Wild Berry
Beverages/Water

Gold: The Maple Guild — tapt Vitamin Electrolyte Antioxidant Mineral Infused Tree Water Made from Maple Syrup
Silver: Mapco Express — Good Livin' Sparkling Water
Bronze: Independent Beverage Co. — Puraqua Belle Vie Grapefruit Sparkling Water (Sold at Aldi)
Bread

Gold: La Fournee Doree — Specially Selected Sliced Brioche Loaf (Sold at Aldi)
Silver: Pita Bread Factory — L'Oven Fresh Wraps, Spinach Herb (Sold at Aldi)
Candy

Gold: Chocmod USA Inc. — Snacking Chocolate Coconut & Quinoa
Silver: Redland Foods — Peaceful Piranha Caramel Cashew Popcorn
Bronze: Chocolate Lugano — Easter Collection Lugano & Jorge Bischoff
Chips

Gold: The Kroger Co. — Kroger Nashville Style Hot Chicken Kettle Cooked Potato Chips
Silver: Snack Innovations — This Chip is Awesome
Bronze: Severance Foods Inc. — Simply Nature Organic Multigrain Tortilla Chips (Sold at Aldi)
Dairy

Gold: Commonwealth — Friendly Farms Crazy for Coconut Tilts Greek Yogurt (Sold at Aldi)
Silver: Biazzo — Biazzo Dairy Fresh Mozzarella Snack Sticks
Bronze (tie): The Kroger Co. — Carbmaster Low Fat Peach Cottage Cheese; Commonwealth — Friendly Farms Key Lime Crunch Tilts Greek Yogurt (Sold at Aldi)
Dairy-free Products

Gold: Natural Fit Food Products — Dairy-free Cheddar Cheese
Frozen Desserts

Gold: G.S. Gelato & Desserts — Mango Sorbet with Semi-Candied Fruit
Frozen Fruit

Gold: Wawona Frozen Foods Corp. — Season's Choice Tropical Blend (Sold at Aldi)
Frozen Vegetables

Gold: The Kroger Co. — Mini Sweet Potatoes with Moroccan Inspired Artisan Seasoning Blend
Silver: The Kroger Co. — Petite Potatoes with Smoked Gouda, Onion & Thyme Artisan Seasoning Blend
Bronze: Crops dbs RR Foods — Mediterranean Quinoa with Spinach, Garbanzo Beans, Red Peppers and Onions (Sold at Aldi)
Health, Beauty and Medical Products

Gold: Sterling Global Products — Bob's Insect Repellent Wipes
Silver: Vertex/Product Launchers — Vertex Toothbrush
Bronze: Royal Labs Natural Cosmetics — Harris Teeter Traders French Lavender Body Lotion
Household Products

Gold: Freudenberg Household Products/O Cedar — ProMist Max Microfiber Spray Mop
Silver: Berkley Green — Uniquely J Fragrance Sparkling Grapefruit Scented Bathroom Cleaner (Sold at Jet.com)
Bronze: Berkley Green — Uniquely J Fragrance Free Wood Floor Cleaner (Sold at Jet.com)
Meal Solutions

Gold: International Delicacies Inc. — Earthly Grains Ready-to-Eat Quinoa Meal/Spicy Jalapeño & Roasted Peppers (Sold at Aldi)
Silver: Ungar's Food Products, dba Dr. Praeger's Sensible Foods — Earth Grown Vegan Veggie Burger (Sold at Aldi)
Bronze: Oggi Foods Inc. — Gluten-Free Cauliflower Crust
Meat (Frozen)

Gold: The Kroger Co — Private Selection Peri Peri Seasoned Chicken Breasts and Private Selection Shawarma Seasoned Chicken Breasts
Meat (Jerky)

Gold: Fusion Ranch — Simms Artisan Jerky – Spicy Garlic Pork (Sold at Aldi)
Meat (Other Processed)

Gold: Godshall's — Artisan Butcher Korean Barbecue Flavor Uncured Bacon
Silver: Salm Partners — Parkview Uncured Angus Beef Franks (Sold at Aldi)
Bronze (Tie): The Kroger Co. — Private Selection Natural Hardwood Smoked All-Beef Hot Dogs Made with Beef Brisket; Salm Partners — Parkview Select Cuts Hot Italian Style Uncured Cooked Chicken Sausage (Sold at Aldi)
Oils and Vinegars

Gold: The Maple Guild — Maple Vinegar
Silver: La Tourangelle — Uniquely J California Single Origin Extra Virgin Olive Oil (Sold at Jet.com)
Bronze: La Tourangelle — Uniquely J Organic Virgin Coconut Oil (Sold at Jet.com)
Pasta and Macaroni

Gold: Karlin Foods — Live Gfree Gluten-Free Deluxe Rice Shells & Cheese (Sold at Aldi)
Silver: TreeHouse Foods — Harris Teeter Traders Sprouted & Ancient Grain Blend Multigrain Pasta
Bronze: Karlin Foods — Simply Nature Organic Deluxe Shell Pasta with Cheese Sauce (Sold at Aldi)
Pet Food

Gold: American Nutrition — Nature's Source Dog Food in Three Flavors: Gluten-Free Salmon; Lamb & Brown Rice; and Chicken and Brown Rice
Silver: Mountain Country Foods — Pure Being Grain-Free Dog Treats in two flavors: Chicken and Beef & Cheddar (Sold at Aldi)
Bronze (Tie): American Nutrition — Nature's Source Chicken, Brown Rice & Pea Cat Food; ConSup North America — Pure Being Adult Dog Food (canned) in three varieties: Salmon & Potatoes, Beef & Chicken and Chicken & Vegetable Stew (Sold at Aldi); Sunshine Mills — Pure Being Natural Cat Food in two flavors: Salmon, Brown Rice & Sweet Potato; and Chicken & Chickpea (Sold at Aldi)
Sauces, Salsa, and Dip

Gold: The Kroger Co. — Private Selection Chimichurri Finishing Sauce
Silver: Italian Rose Garlic Products — Italian Rose Ghost Pepper Fresh Salsa
Bronze: Good Foods — Little Salad Bar Southwest Guacamole (Sold at Aldi)
Shelf-Stable Vegetables

Gold: Seneca Foods — Baked Beans in Four Flavors: Original, Country Style, Savory Molasses and Sweet Bourbon
Snacks

Gold: Redland Foods — Culinary Tours Kettle Cooked Peanuts Peruvian Style Chili
Silver: Woodstock Farms — Organic Morning Commuter Trail Mix
Bronze: Redland Foods — Culinary Tours Kettle Cooked Peanuts Rendang Curry
Snack Bars

Gold: The Yes Bar —The Yes Bar/Macadamia Chocolate Snack Bar
Silver: Nutri-Nation Functional Foods — Elevation Better for You Bar by Millville/White Chocolate Macadamia Nut (Sold at Aldi)
Bronze: Leclerc — Fresh Direct Just Nut Bars
Spices and Seasonings

Gold: The Spice Lab — Himalayan Pink Salt
Silver: Gel Spice — Stonemill Lemon Pepper Salt Free Seasoning Blend (Sold at Aldi)