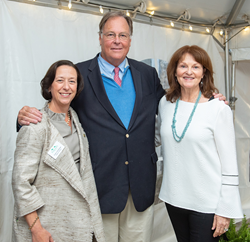 Sometimes, we are fortunate enough to be part of a truly transformational moment — to witness a shift in an organization from what it might be, to what it will be. —Mercedes Rudkin Gotwald, Foxcroft Class of 1972 and Chair of Foxcroft School's Advancement Committee
MIDDLEBURG, Va. (PRWEB) April 26, 2018
Following its recent spring meeting, the Board of Trustees at Foxcroft School announced the successful completion of its $75 million Centennial Campaign. The fundraising campaign is one of the largest ever to be completed by a U.S. girls' school to date.
Not only did the School successfully close the projected 10-year campaign two years ahead of schedule, but it also surpassed its $75 million goal by $3.6 million and increased the endowment for the all-girls school by over 200 percent.
In her remarks to the Foxcroft alumnae, fellow trustees, school administrators, and other special guests gathered at Foxcroft School for a special reception last Friday, Mercedes Rudkin Gotwald '72, Chair of the Advancement Committee of the Board of Trustees, said, "Sometimes, we are fortunate enough to be part of a truly transformational moment — to witness a shift in an organization from what it might be, to what it will be."
Foxcroft's announcement about the completion of the Centennial Campaign harkens back to a pivotal moment several years after the launch of the effort in 2010. In October 2014, Foxcroft Head of School Cathy McGehee announced a transformative $40 million bequest from Ruth Bedford, an alumna from the Class of 1932, as the largest-ever gift bestowed upon a girls' school in the country. "Ruth's gift allows us to begin realizing our dreams for the future of Foxcroft," said McGehee at the time, adding that "our students will directly benefit as we expand the experiential learning that has always been a hallmark of a Foxcroft education, refresh our physical plant, and strengthen our scholarship offerings."
Over the course of the Centennial Campaign, more than 500 individual donors supported the initiative, thereby demonstrating their tremendous support of and investment in the future of Foxcroft School.
"Our Centennial Campaign has put Foxcroft in a position to be the standard bearer for girls' schools around the globe. Yes, there is still work to be done to continue to ensure that we deliver an exceptional Foxcroft experience to future generations of young women, but today, we celebrate this incredible achievement," said Board Chair, Anne Michele Lyons Kuhn '87.
Among the numerous projects supported by the Centennial Campaign over the past eight years are the building of Stuart Hall dormitory, enhancements to the four existing dormitories, the renovation of Court Dormitory as the School's new Welcome Center, upgrades to the barn for the School's riding program, and the establishment of student scholarships to make an outstanding Foxcroft education accessible to more girls.
Founded in 1914, Foxcroft School is a college-preparatory boarding and day school for girls in grades 9-12 with a mission of helping every girl explore her unique voice and develop the skills, confidence, and courage to share it with the world. Its 2017-18 student body is comprised of 157 girls from 14 countries, 18 states, and the District of Columbia. More than 40 percent of the students receive need-based financial aid and 11 percent receive merit scholarships. Some 24 percent are international students, and 22 percent are students of color. Foxcroft offers 76 courses, including 16 AP classes, and a STEM program that inspires girls to pursue disciplines underrepresented by women. Foxcroft fields athletic teams in 10 sports, including a two-time state champion lacrosse team and also has a nationally known riding program.