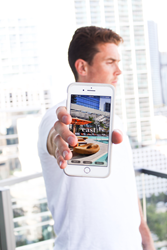 (PRWEB) April 26, 2018
EAST, Miami received industry kudos at the 2018 Hospitality Technology Awards on March 14 during HT-NEXT at the Manchester Grand Hyatt in San Diego, Calif. HT-NEXT combines HT's Hotel Technology Forum and HTNG North America into one immersive networking and educational event for hotel executives and solution providers. As the recipient of the Hotel Visionary Award, EAST, Miami was lauded for its hotel technology advancements through its namesake mobile application, smart elevators, and casting in the 352 hotel guest rooms. EAST, Miami was chosen as a Customer-Facing Innovator for its creation of a modern intelligent hotel ecosystem by implementing innovations to secure, streamline and personalize the guest experience.
Mihai Bote, CHTP, Director of Technology shares that, "Here at EAST, Miami, and at Swire Hotels as a whole, we are confident that innovative technology is essential to the functionality of the modern intelligent hotel ecosystem, so it is an honor to have these efforts recognized at HT-NEXT 2018 Hotel Visionary Awards."
When Swire Hotels decided to expand its portfolio to the US market with EAST, Miami, careful consideration was given to how to incorporate technology as a key differentiator. During the design, planning and implementation stages, the technology team was entrusted not only with the selection of the technology stack, but also with the task of securing robust business partnerships. Bote elaborates, "With a next generation native mobile app for both iOS and Android platforms powered by TripCraft, our patrons can seamlessly book a room, secure a table reservation at our outlets and research a personalized guide to explore the local surroundings. Once on-site, they can enjoy features like mobile check-in or mobile key, in-room content streaming powered by Hotwire's Fision EchoCast or benefit from frictionless secure destination elevators, a world's first integration between Assa Abloy and Otis platforms, powered by Braxos Solutions."
As a result, EAST, Miami has become a benchmark in technological innovation, pushing the boundaries of creativity and collaboration to benefit both guests and staff alike.
Swire Hotels is a forerunner in green corporate responsibility and sustainable hospitality. By integrating environmental considerations into each eco-friendly EAST hotel, Swire provides exemplary hospitality standards, service and technology while protecting the earth for future generations. As General Manager and Vice President of Swire Hotels USA Giovanni Beretta shares, "With guest rooms that aim to provide maximum comfort with minimal energy footprint, we believe the value of technological innovation lies in tandem with environmental impact awareness. We hope that others begin to share this sentiment and sustainable development truly becomes the way of the future."
Download the official EAST, Miami app here.
About EAST, Miami
EAST, Miami is Swire Hotels' first venture into North America, following the openings of EAST in Hong Kong and Beijing. Created for unconventional travelers looking for a fun and relaxing place to stay, EAST, Miami offers distinctive experiences for those seeking innovation, style, and personalized service. EAST, Miami offers 352 guest rooms to include eight suites and 89 one, two and three-bedroom residence suites (fully equipped apartments with kitchen, laundry facilities and full access to the amenities and services of the hotel). Guests can expect keyless entry, paperless check-in and check-out, a native app with locally curated insights and travel tips, art exhibits, health and wellness programing and array of other happenings to make them feel totally at EAST. The hotel boasts its signature restaurant Quinto La Huella; a poolside bar & lounge and a rooftop destination bar called Sugar; 20,000 square-feet of meeting and banquet rooms with bay and city views; a 20,000 square-foot outdoor pool deck (with four different pools) which can be used for private events; a lobby café and bar, Domain; and a 24-hour fitness center. Located at 788 Brickell Plaza, Miami, Florida 33131, the hotel is centrally located within a 15-minute drive from the Miami International Airport, and situated on top of Brickell City Centre – conveniently connected to popular districts such as Wynwood, the Design District, and South Beach. For reservations please emailreservations(at)east-miami.com or call 305-712-7000. For more information, please visit http://www.east-miami.com/.
About Swire Hotels and Swire Restaurants
Swire Hotels has been created to manage soulfully individual hotels in Hong Kong, Mainland China and the USA, providing a characterful experience for well traveled individually minded travelers who seek originality, style and personalized service. We create distinctive hotels with a sense of place that break with convention.
The company's first hotel, The Opposite House in Beijing, opened in 2008 and was followed by The Upper House, Hong Kong; and then by EAST, Hong Kong; EAST, Beijing; The Temple House, Chengdu and EAST, Miami. The Middle House in Shanghai is scheduled to open in April 2018.
A restaurant division was set up in 2013 to manage the company's stand-alone restaurant operations. Our first restaurant Plat du Jour opened in November 2013 followed by Public and Ground Public in Quarry Bay. The Continental in Pacific Place opened in October 2014 and Mr & Mrs Fox in 2015, follow by the second Plat du Jour opened in Pacific Place in 2016. Our latest addition, Republic, a sub-brand of Public opened in Taikoo Place in December 2017.