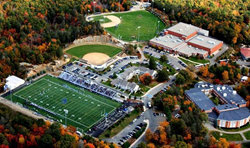 We are excited to bring an ID camp of this caliber to our soccer athletes in the northeast region.
SAN RAFAEL, Calif. (PRWEB) April 27, 2018
Geared towards high school athletes, College ID camps are the pinnacle event for athletes looking to get recruited and play soccer at the next level. Coached by over 40 college coaches from NCAA DI, DII, and DIII institutions, campers will leave with an enhanced skill set that will prepare them for their upcoming fall season.
"We are excited to bring an ID camp of this caliber to our soccer athletes in the northeast region," says Renee Chapman, VP of Nike Soccer Camps. With a range of institutions athletes can expect to receive first hand evaluations and advice from some of the NCAA's top coaches. "The benefits of this camp allow high school athletes the chance to get on the radar of some big-time coaches, as well as pick up some new skills and techniques prior to the start of the fall soccer season," says Chapman.
The College ID camp at Endicott runs from August 2nd-5th, 2018 and is open to high school boys ages 13-18, who are looking to play soccer at the collegiate level. Campers will train on the fields as well as enjoy seminars with some of the coaches in attendance. Q + A sessions with college coaches are intertwined with training sessions on the field. Campers receive 3 meals a day, supplemental snacks and post-game food, while staying in dormitories on this oceanside campus.
Campers, Parents, and Coaches interested in more information and view a complete list of colleges that will attend the Just Play Elite 200 ID Camp at Endicott college can visit https://www.ussportscamps.com/soccer/nike/ or call 1-800-645-3226.
About US Sports Camps
US Sports Camps (USSC), headquartered in San Rafael, California, is America's largest sports camp network and the licensed operator of Nike Sports Camps. The company has offered summer camps since 1975 with the same mission that defines it today: to shape a lifelong enjoyment of athletics through high quality sports education and skill enhancement.