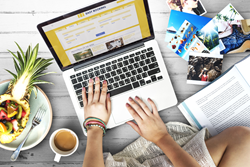 We are now an end-to-end marketing solution that will deliver everything a vacation rental company needs to increase its direct bookings, while also bolstering bookings from global channels.
EMERYVILLE, Calif. (PRWEB) April 27, 2018
RedAwning.com, the world's largest branded collection of vacation rental properties, today announced it has acquired Blizzard Internet Marketing, Inc., a 21-year old highly respected online marketing, web design and reservation engine solution company for the hospitality industry. This acquisition expands RedAwning's Business Solutions for participating property managers to include online marketing services such as custom designed websites and website hosting, SEO, paid search, email marketing, and social media programs, all aimed at strengthening the brands of Vacation Rental Management companies and growing their direct bookings. With this acquisition, RedAwning.com also intends to rebrand as RedAwning Group, with Blizzard Internet Marketing continuing as a wholly owned subsidiary. All employees of Blizzard are continuing, and Susan Blizzard will continue to be President of Blizzard.
For Blizzard clients, this acquisition will enable seamless access to the complete RedAwning Network, the largest global distribution network for vacation properties, and RedAwning's other industry leading value-added services. The RedAwning Network includes every major travel website, as well as 6 proprietary websites and a growing diversity of unique and exclusive websites. RedAwning's value-added services include complete reservations processing, customer service, credit card processing, declined card handling, chargeback management, accidental damage protection, a free mobile app for guests, and much more. This acquisition further enhances RedAwning's objective to help Vacation Rental Companies all over the world survive and thrive in an industry that is rapidly changing and offers enormous new opportunities for growth.
"With the acquisition of Blizzard, we now have the opportunity to offer a full range of ground level marketing support for clients, along with the clout of the largest global network. We are truly a complete one-stop end to end marketing solution that will deliver everything a vacation rental company needs to increase its direct bookings, while also bolstering bookings from global channels," said RedAwning CEO Tim Choate. "We've been very impressed with Blizzard's leadership and expertise in the industry and we see enormous potential for our clients in adding deep internet marketing expertise to RedAwning's suite of services."
"Blizzard has always been focused on high ROI solutions for lodging companies. When I heard RedAwning's plans to enable our clients to remain independent while also benefiting from high level technology support and cutting-edge services, I knew that joining them would take us exactly where we've always wanted to go," said Susan Blizzard, President of Blizzard Internet Marketing. "New technology, distribution, and optimization opportunities that other companies in this industry talk about were often invented by RedAwning, and they have strong partnerships with everyone that counts. They have even more coming soon, and we have some great things to build together, making this an incredibly exciting opportunity for me and my team who have worked hard to build Blizzard over the last 21 years."
Blizzard's services include SEO, PPC, social media, email marketing, local search, analytics, website design, booking engines and hosting. The Blizzard team will continue to service their current clients in all the ways that they already do, and will also make their services available to RedAwning clients, in addition to integrated services that combine the best of both companies.
ABOUT REDAWNING
RedAwning is the world's largest branded collection of vacation properties offering a comprehensive layer of services and support with every stay. With over 100,000 unique properties in over 10,000 destinations, RedAwning offers the broadest single point access to the largest network in the world for alternative lodging, with every major travel website participating. RedAwning is the leading US supplier of vacation rental properties to Booking.com, Expedia, HomeAway/VRBO, TripAdvisor, and Airbnb. RedAwning also operates exclusive vacation property booking websites, including Perfect Places, VaycayHero, TravelPro Rentals, and RedAwning.com, and is growing a base of unique added distribution opportunities such as Vacation Rentals By Choice Hotels, GlampingHub and Holidu.
RedAwning has been a leading innovator in the vacation rental industry since 2010, with a mission to redefine the customer journey for guests, hosts and property managers and to drive new approaches that make the booking experience more consistent, easier, safer and better for all. The company is profitable, rapidly growing, and backed by Silversmith Capital Partners.
LEARN MORE For more information on RedAwning or Redawning services, please visit our website.
ABOUT BLIZZARD INTERNET MARKETING
Specializing in the Vacation Rental Management industry, Blizzard Internet Marketing provides comprehensive online marketing services and bookable VRM websites. Blizzard employs a group of experts in all areas of digital marketing, including SEO, Pay-Per-Click, Email Marketing, Social Media, Local Search, Analytics, Usability and Website Services that also include solutions for Real Estate Agencies. Blizzard offers training and consultation to clients through services as well as holding in-person Blizzard University Workshops about the most relevant digital marketing techniques.