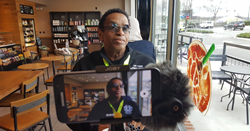 Our goal is to inform people that there is hope for improved vision.
TIMONIUM, Md. (PRWEB) April 26, 2018
Low Vision Specialists of Maryland and Virginia (LVS) has launched a vlog series created to highlight the opportunities and obstacles faced daily by those living with low vision. The series will feature Lannie D., a man who suffers from retinopathy and is legally blind.
The series takes place in a local coffee shops, with Lannie musing about the impact of low vision on his every day life. The amusing storyteller lets people in on the unique disadvantages, heartbreak and humor that accompanies living with low vision. Lannie also talks frankly about overcoming his limitations to become a low vision ambassador and his motivation to break barriers every day.
"We are singularly privileged to have Lannie as our friend and patient," said Bari Azman, Vice President of Marketing & Business Development for LVS and creator of the vlog series. "Lannie is gracious, open, honest and strikingly candid about his life as a person with low vision. He gives us painful insights into the limitations that our culture places on people with vision impairment," said Azman. "However, with Lannie's unique character, he also delivers tales of survival, love, and the tenacity of the human spirit."
As an adult, Lannie has been using customized optical solutions like microscope and telescope glasses to see. They allowed him to ride his motorcycle and pursue other hobbies. Now, wearable technology like IrisVision is expanding his world even further. Lannie attends church and can read from the hymnal. He attends sporting events, watches his grandchildren play ball, and volunteers in the LVS offices as a patient ambassador.
The vlog series was created to capture Lannie's very personal journey through life with low vision and explore the power of workforce accessibility. Coffee Talk with Lannie D. is in production and the first episodes can be found on the Low Vision Specialists of MD & VA YouTube channel https://lowvisionmd.org/coffee-talk
For more information contact Low Vision Specialists of Maryland & Virginia.
About Low Vision Specialists of MD & VA
Low Vision Specialists of Maryland and Virginia (LVS) specializes in maximizing patient vision and customizing optical systems for adult and geriatric patients suffering with vision loss caused by aging, macular degeneration, diabetes, retinitis pigmentosa, and other ophthalmic diseases, as well as children suffering with Stargardt's disease. LVS improves the quality of life for patients whose vision loss makes activities of daily difficult or impossible. Founded in 1976, the practice has over a 90% success rate with improving patient vision. LVS is a member of The International Academy of Low Vision Specialists (IALVS), and has multiple locations in Maryland and Virginia.