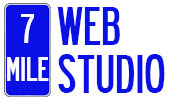 It seems businesses where looking for someone local that specializes in working with small business who is affordable and competent
ATLANTA (PRWEB) April 26, 2018
7 Mile Web Studio Proudly Announces Their Grand Opening on March 1. The company will be concentrating primarily on servicing WordPress sites. Their offerings will include WordPress Maintenance Programs SEO Services & Web Design as their name implies. The company is off to a quick start with on-boarding over 60 new clients since their opening day. "It seems businesses where looking for someone local that specializes in working with small business who is affordable and competent," states Michael Lawson (President).
About 7 Mile Web Studio:
Michael Lawson, the founder, has a degree from the University of Alabama in Computer Science Engineering. He has worked with companies including JCPenney, Interactive Search Marketing and ClickReady Marketing. At JCPenney, Lawson was a system analyst managing POS software for their stores nationwide. His role as a consultant with the marketing agencies was to keep websites performing at the highest level in function and optimized for SEO for various industries. Michael says, "My team services a niche for small businesses and start-ups who often cannot afford the high fee larger agencies want to charge."
7 Mile Web Studio offers 3 primary service plans that range in price from $69 to $859. These plans will accommodate most budgets and are designed to meet most small business online goals and objectives. However, the company also will create a custom proposal to accommodate businesses with specific needs, budgets and/or goals.
Feel free to visit https://7mileweb.studio/ to learn more about the company and their core offerings.