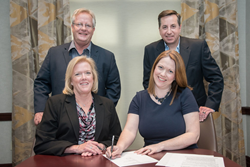 Our vision has always been the safe handling and absolute protection of sensitive data in today's world where cyberattacks are certain and clients require trustworthy, secure cloud-based solutions.
KERENS, Texas and RESTON, Va. (PRWEB) April 26, 2018
Clear Creek Group announced today that it has entered into a binding agreement to acquire full ownership of Virginia-based DataSync Technologies. The transaction has been unanimously approved by the boards of Clear Creek and DataSync and the joint agreement was signed on April 24.
Clear Creek Group is an information technology consulting holding company that guides transformation strategy for business, government and public sector organizations.
DataSync, named one of the Washington Business Journal's 2018 Best Places to Work in Greater Washington, joins Clear Creek's wholly-owned subsidiary, Harmony Technology Services. Both companies have deep and substantive experience in strengthening and securing advanced corporate IT systems.
"Our leadership team at Clear Creek has worked successfully in demanding sectors of the defense industry and in support of several of the nation's most secret products and operations," said Tom Shelman, President and Chief Executive Officer of Clear Creek Group. "The combination of Clear Creek and DataSync creates a unique information technology position in the national security IT market that will be the envy of much larger companies and competitors."
The DataSync acquisition enhances Clear Creek's ability to grow and gain entry into new markets, making it a valuable complement to the company's offerings, said General Harry Gatanas (U.S. Army, retired.), who serves as Senior Vice President of Clear Creek Group's National Security Sector.
"DataSync's core capabilities of business intelligence and software engineering are qualifications needed throughout the intelligence community and the DOD. I am excited to be part of DataSync's future as it becomes a part of the Clear Creek Group family," said Gatanas.
Founded in 2004, DataSync is a leader in effective data analysis and interpretation. DataSync President Cara Campbell said that the company's focus on mission-driven and cost-effective solutions has led to its meaningful partnership with the U.S. intelligence and defense communities.
"The center of our vision has always been the safe handling and absolute protection of sensitive data in today's world where cyberattacks are certain and clients require trustworthy, secure cloud-based solutions," said Campbell. "We have achieved that for our clients. We now join with Clear Creek Group because it is time to accelerate our vision and to reliably deliver those proven and tested solutions to an even wider circle of critical national customers."
About Clear Creek Group
Clear Creek Group, Inc. is an information technology consulting holding company. Its family of companies are leading technology solutions providers serving federal, state and local government agencies and global business enterprises, with a focus on federal government IT for national security. As a parent company, it uses its combined experience and vision to define change, transform organizations and deliver results. Clear Creek's "buy, hold and grow" strategy helps us align the interests of management and ownership, support long-term planning and serve Clear Creek family customers with better talent at lower prices, while still improving profits. http://www.clearcreekgroup.com
About DataSync Technologies
As a professional service firm within the APN, DataSync helps customers and businesses of different sizes design, build, migrate and manage their work and schedules via AWS. As such, the APN features tens of thousands of customers and businesses. Founded in 2004, DataSync is a leader in the D.C. area for effective data analysis and interpretation. It develops solutions to complex problems through a collaborative, innovative, team-based approach. DataSync's focus on mission-driven and cost-effective solutions have led to its meaningful partnership with the U.S. intelligence and defense communities. https://www.datasynctech.com/