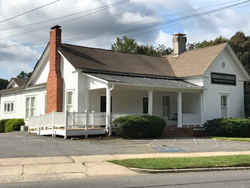 We're excited about having a new office that is the best of two worlds. It's a marvelous historical property, and a much larger space for our growing law firm. - Scott Poole, Partner, Grisham & Poole
CANTON, Ga. (PRWEB) April 26, 2018
Grisham & Poole, P.C., a law firm in Canton, Georgia, has announced the completion of their office relocation. The new office is located in a fully restored and updated turn-of-the-century property located at 577 Main Street, at the edge of the dowtown Canton. The new office will be the home for the full legal team including lawyers, support staff and case investigators.
The extensive renovation resulted in an office that preserves the historical look of the property while including upgrades and amenties required by a premier law firm. In addition to the advantages of the larger office, clients have spacious, free off-street parking.
"Moving our law firm office was quite an endeavor, however; it was a necessity as our law firm has doubled in size in a relatively short period of time. We were fortunate to find a location that remains convenient for our clients, and projects a sharp image for our law firm", said Ross Grisham, Partner at Grisham & Poole.
The law firm has long been recognized as a top criminal defense law firm in Cherokee County, Georgia. In the past year the firm has added highly skilled lawyers that specialize in divorce, family law and personal defense. Among these lawyers are Ashley Carlile, partner, who is a highly respected divorce and family law lawyer, and Michael Ray who is an established lawyer specializing in family law and personal injury cases.
About Grisham & Poole
Grisham & Poole, P.C. is a premiere law firm with lawyers that are specialists in practice areas including criminal defense, divorce, family law and personal injury. The law firm maintains offices in Canton and Jasper, Georgia. The law firm serves clients throughout the State of Georgia in local, State and Federal courts. For ore information, please visit the law firm's website at http://GrishamAndPoole.com