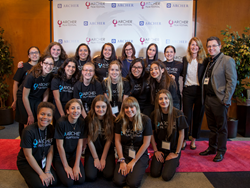 LOS ANGELES (PRWEB) April 25, 2018
The Archer School for Girls hosted its seventh annual Archer Film Festival, empowering female filmmakers and featuring award-winning actress Laura Dern as the keynote speaker. Festival organizers received over 680 student-produced film submissions from 65 countries around the world. Celebrities, media, and the public viewed screenings of finalist films at The Writers Guild Theater in Culver City after a pink carpet reception. Event sponsors included The Kennedy/Marshall Company, Bad Robot Productions, CBS Entertainment Diversity, Sony Pictures Entertainment, and The Mark Gordon Company.
Three-time Golden Globe® winner and two-time Academy Award® nominee Laura Dern's film credits include Jurassic Park, The Master, Blue Velvet, Wild at Heart, The Fault in Our Stars, and Star Wars: The Last Jedi. Her experiences in the industry have impelled her to become an outspoken advocate for women's empowerment. Dern opened the event with a keynote and interview led by students from Archer's Institute for Film and Video Literacy program.
The Archer Film Festival is a student-run and student-led event. "Our mission has always been to inspire and empower women in the entertainment industry, and Laura Dern's unmitigated confidence - both onscreen and off - has made her a fantastic role model for girls everywhere," Film Festival Leadership Board member and Archer junior Zoë Appelbaum-Schwartz said. "Regardless of the role she is portraying, Ms. Dern commands respect and admiration - a gift that can be attributed to her strength and expertise. Additionally, her advocacy for race and gender equality has made her a powerful force in the fight for change. We are very excited to feature such a bold and multi-talented actor in this year's Film Festival."
The second day of the Festival on Thursday, April 27 will be held on the Archer campus and feature three panels for its Industry Day. Panelists include producer-director Irwin Winkler (Rocky, Raging Bull, The Right Stuff, De-Lovely), writer-director Lisa Cholodenko (The Kids Are All Right, Laurel Canyon, The L Word, Six Feet Under), and TriStar Productions President Hannah Minghella (Baby Driver, American Hustle, The Amazing Spider-Man 1 and 2, Skyfall). Panelists will address questions from students after discussing topics in filmmaking and their firsthand experiences related to women in film.
Nearly 20 years later, the gender gap remains unchanged. According to a 2017 report from the Center for the Study of Women in Television and Film, women comprised 18% of all directors, writers, producers, executive producers, editors, and cinematographers working on the top 250 domestic grossing films. This represents an increase of 1 percentage point from 17% in 2016 and is virtually unchanged from the percentage achieved in 1998. Only 11% of last year's top grossing movies had a female director.
The Archer Film Festival strives to bridge that divide by empowering and highlighting young filmmakers who share the goal of increasing the number of women in the film and television industry, and to participate in the conversation about women's representation onscreen. Throughout the development of the Festival, student filmmakers are given access to insider industry knowledge, further strengthening their foundation to effectively pursue careers in the field.
"The Archer Film Festival was created to encourage our student filmmakers, give them hands-on experience in the industry, and to help achieve gender parity in front of and behind the camera," Head of School Elizabeth English said. "Archer students have run with this idea, making the Festival their own and bringing exposure and attention to a problem that affects the way young girls see themselves and their place in the world."
# # #
About The Archer School for Girls
Founded in 1995, The Archer School for Girls is a contemporary girls' school, grades 6 through 12, devoted to educating and empowering girls for leadership in the 21st century. We take a research-based approach to teaching and learning in an environment that explores and refines the ways girls learn best. Archer has always been committed to reflecting the face of Greater Los Angeles. Thirty-nine percent of the student body are students of color and come from 81 different zip codes and 155 different feeder schools. We award nearly $4 million in financial aid annually. Above all, Archer is known for its highly innovative programs and joyful culture. For more information, follow us on Facebook or Twitter @ArcherSchool or visit our website http://www.archer.org.