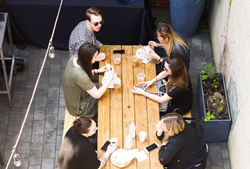 Today, a large tech startup and a progressive Fortune 500 company can look almost identical.
NEW YORK (PRWEB) April 26, 2018
Uncubed is gathering both startup and Fortune 500 HR and talent leaders for its HR Uncubed conference, to learn from each other as the human resources sector changes at an unprecedented pace.
The core themes of the 2018 event reflect the major drivers of these changes including the use of AI and data, diversity, equity, & inclusion, and candidate experience and employer brand for next-gen talent – and are set against a backdrop of quickly-evolving data and privacy concerns stemming from the new GDPR legislation and high-profile social network and corporate data breaches.
The sea changes come at a time when startups and corporates are merging in terms of approach to talent, HR technology, and culture. "Today, a large tech startup and a progressive Fortune 500 company can look almost identical. The approach to space, culture, and tools used was totally disparate five years go. It is rapidly converging today," said Tarek Pertew, Uncubed's Chief Creative Officer.
"Under increasing scrutiny for the cultures they're building and maintaining, startups need to assume the rigor and organization of larger companies. On the other hand, larger companies are facing an existential crisis – if they don't become known as innovators and places for compelling professional growth, they're going to fail. They need to follow the lead of startups. So one of the motivations for HR Uncubed is to bring them together under one roof to trade ideas and tactics."
Select participating companies include IBM, In-Bev, Walmart, USAA, Google, Revlon, Warner Music Group, United Technologies, Merrill Corporation, Memorial Sloan Kettering, Mastercard, Infor, BNP Paribas, Microsoft, Dick's Sporting Goods, McKinsey & Company, Tommy John, Rémy Cointreau, Verizon, Guardian Life Insurance, Peloton, GrubHub, Movable Ink, Betterment, Paperless Post, The Sill, Vistar Media, ToughMudder, Artsy, codecademy, Fueled, Splash, Spring, and more.
HR Uncubed takes place on May 1st and 2nd, in Williamsburg, the creative heart of Brooklyn, at the newly-opened Williamsburg Hotel, the Wythe Hotel, and other nearby venues.
The content for the conference is built on data and tactics-driven talks, rather than on panels, featuring keynote Beth Comstock, Ex-Vice Chair of GE and current Director at Nike, and others including:

Sonja Gittens-Ottley, Head of Diversity & Inclusion at Asana,
MaryAlice Feinstein, Staffing Manager at Google
Jonathan Jackson, Co-Founder at Blavity
Susan Gilbert, Executive Director of HR at United Technologies
Hudson Taylor, Founder & Executive Director at Athlete Ally
Conor Myhrvold, Senior Engineering Manager at Uber
Geri Barrison, Principal Offering Manager at IBM Watson Talent
Natalia Harris, Global Director of People Operations at Letgo
Participants can expect to increase their understanding of how to build and maintain world-class teams in an environment where AI and data, candidate experience, employer brand, and diversity, equity, and inclusion represent both today's biggest opportunities and challenges.
Uncubed now maintains both SHRM and HRCI accreditation and attendees will be eligible for qualifying professional development credits in accordance with their standards.
Other speakers include Hassana Tutt, Executive Search Consultant at Sotheby's, Zöe Desroches, Author on Diversity and Employer Brand & Content Manager at Asana, Olivia LaFaire, Senior Product Designer at Justworks, Christine Radar, Design Lead, IBM Talent Management, Rob Long, VP Of Product Strategy at Workable, Chris Fleming, Director of People Operations, at Everwise, Phi Pham, Founder at Building Beats, Kay McKean, Founder & Chief Awareness Officer at SALT, Marcus Glover, Partner at Southbox Ventures, Director, People Operations at Kargo, David Nason, Head Of Global Talent Acquisition at Infor, Gina Waldhorn, President at Quirky, Terrence Agbi, Digital Accelerator Product Specialist at United Technologies, Will Blaze, Senior Technical Recruiter at Peloton, LaToya Joseph-Gittens, Senior Global HR Business Partner, Marsh & McLennan Companies, and others.
Uncubed encourages anyone who plays a significant part in the hiring, recruiting, or employer branding process for their company to attend HR Uncubed. It's a highly-relevant learning and network opportunity for both growth stage companies and established corporations executing digital transformation strategies. Conference passes start at $599 per attendee. The headline sponsor partner for HR Uncubed 2018 is IBM; other sponsors include Everwise, Financial Gym, FoodtoEat, Goodwall, Justworks, Ladders, League, Lingo Live, Managed by Q, Snappy, Stadium, and Workable. To view the full speaker list and conference schedule, or to purchase conference passes, please visit http://hr.uncubed.com.
For bulk ticket rates (3 or more), or to inquire about conference sponsorship, please reach out to sales(at)uncubed.com.
###
ABOUT UNCUBED
Uncubed is a next-gen talent platform, offering a video-first job board along with a full range of tech-enabled services for building employer brand, attracting top talent, and digital transformation. The Uncubed software platform delivers pioneering content and talent acquisition analytics and access to high-quality candidates across skillsets. Uncubed works with both growth stage startups and innovative Fortune 500 companies including IBM, United Technologies, Peloton, Letgo, and more. To learn more about Uncubed, please visit http://www.uncubed.com.