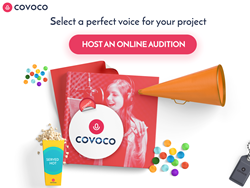 Human Voices in Any Language
(PRWEB) May 04, 2018
Covoco is bridging the gap between content producers and voice talent by reinventing the ecosystem.
The voice over industry has not changed much since the classified ads era -- basically a black box for those on both sides of the hiring equation. At Covoco, we use cutting edge technology and human curation to fix the unfair, broken talent booking system and empower voice talents to find meaningful opportunities suited to their skill sets, while helping companies level the playing by connecting with the best talent. It's a win-win.
The young team at Covoco, located over 3 continents, is on a mission to streamline and provide a modern approach to the 60 year old industry which is still unorganized largely. Covoco business model is inspired by world changing global and distributed companies like Uber and Airbnb.
However Covoco is taking it one step with its Online Voice Project management & collaboration system, that enables producers and talent to collaborate online seamlessly with an added security of the Three Party Collaboration System. Covoco not only helps producers select and work with voice artist but also ensure that the project is delivered according to clients expectations.
Covoco's online platform enables content producers and creators to Find, Hire, Pay & Work online with the perfect Voice Talent in any language & accent, on-demand, at any scale, from anywhere in the world and at a fair price point.
Using a proprietary intelligent matching algorithm Covoco connects content producers with the right voice talent by analyzing the talents' voice & the Audition brief. For each audition hosted on Covoco voice talent from across the world participate online. The producer can pick and choose the right voice for their projects.
Covoco gives companies an on-demand access to voice over talent that meets or exceed every job requirement. Supporting projects of all sizes from short videos to television documentaries.
Covoco is making it easy for voice talent across the world to leverage the platform and technology to easily audition and sell their voice to clients & creators from any location. Their talent should matter, not their location. They should be able to create a constant source of earnings with their voice.