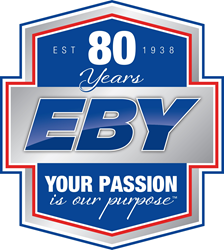 BLUE BALL, Pa. (PRWEB) April 27, 2018
"In Q4 of 2017 we decided to make a big move and expand our dealer network into the south and southwestern US," said Doug Bryant, Regional Dealer Manager. "Our first step was to establish new dealers in the state of Texas. Currently we have added 2 Texas dealers with more to come in the near future. Texas is ideal for our all-aluminum trailers…and we have selected family run dealerships to partner with that will represent the EBY brand well - not just as another brand of trailer on their lot, but as the best trailer to offer their customers. These are dealerships with strong family values and hardworking employees that are proud of the companies they partner with. We are proud of our heritage as a family business established in 1938, and of the network of EBY dealers that trust us to build the best products."
The two new dealers are Lloyd Trailer of Waco and SportChassis of Conroe.
"We are growing and always looking to enhance durable and quality offerings to our customers. After researching and meeting the EBY team, we knew we wanted the opportunity to partner with them," stated Lynita Lloyd of Lloyd Trailer Company in Waco. "EBY manufactures top of the line aluminum trailers and truck beds; we are thrilled to help them grow their presence here in Texas. We look forward to serving the area with EBY's exceptional products and backing it up with customer service for many years to come."
Erin Varley, VP of Dealer Sales and Development, went on to add that "Texas presents a great opportunity long-term for our company. We are honored to start with these two great dealers to carry the EBY torch into the Lone Star state."
SportChassis of Texas also presented a mutually beneficial opportunity. "We elected to offer the EBY line of trailers after careful consideration, and after having been approached by numerous other trailer manufacturers," said Glenn Ivey of SportChassis/Trailers of Texas Conroe, Texas. "The EBY line of all-aluminum trailers has everything we are looking for in what we offer to our valued clients: quality, quality, quality. We also value the family bonds in our dealings with EBY. We are also a family owned and operated business and work hard to give our customers the most positive experience they deserve during and after the buying process. Our goal is a long term relationship with all of our owners. The Houston and SE Texas area is an excellent opportunity for EBY. Texas is hands down the number one state in the country for trailer sales in the nation. There are few chances in business like this one for EBY and us. We truly look forward to growing the brand's market share in the Great State of Texas."
EBY sales from both dealers have commenced and product availability will continue to grow as the market expands.
About Lloyd Trailer Company: Lloyd Trailer is a Dealership with locations in Waco & Itasca, TX selling and servicing high quality utility, livestock, and cargo trailers by a variety of manufacturers. They offer the largest selection of trailers and truck beds in the area as well as an extensive parts and service department and fabrication shop. Dwight and Marquita Lloyd have owned and operated Lloyd Ford in Itasca, Texas for 35 years. In 2014, they started Lloyd Trailer Co. and in 2016 purchased the location in Waco. For more information, visit: https://www.lloydtrailer.com or call 254-799-8898.
About SportChassis/Trailers of Texas: SportsChassis of Texas is the #1 SportChassis® franchise dealer in the world two years running! They offer over 60 years of combined experience in the automotive industry. For more information, visit: http://www.stxsc.com/ or call 936-703-5200.
About M.H. EBY: EBY manufactures a full range of-all aluminum trailers, including utility trailers, equipment trailers, livestock semi-trailers, and horse trailers. EBY's truck body line includes aluminum platform bodies, dump bodies, service bodies and van bodies. The company also manages contracts to design and build custom equipment for unique commercial applications. M.H. EBY is a family owned company that designs and builds all aluminum trailers and truck bodies at 4 manufacturing plants and 6 service facilities in PA, OH, IN, IA and SD. Started in 1938, the company is led by Travis Eby, President, and Nick Eby, VP of Engineering. Menno H. Eby serves as chairman. For additional information, please contact M.H. EBY at 717-354-4971 or http://www.mheby.com.