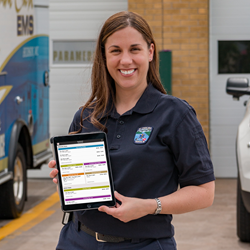 'It's very easy to check the schedule from anywhere.' -- Dale Dow, deputy chief, Fitch Rona Fire & EMS on the convenience of Aladtec
LA CROSSE, Wis. (PRWEB) April 27, 2018
Aladtec, the premier provider of online scheduling and workforce management software to Minnesota and Wisconsin's EMS public safety agencies will be part of the sold-out exhibition at the inaugural Midwest EMS Expo, May 2-3 at the La Crosse Center.
This first-ever event, a collaboration by the American Ambulance Association, Professional Ambulance Association of Wisconsin and the Minnesota Ambulance Association, features learning sessions for professionals and a two-day opportunity to view products, services, and vehicles for EMS providers.
Among the vendors will be a team from River Falls-based Aladtec, Inc. They'll offer free demonstrations of the software and answer user questions about features, such as the new capability for users to create and attach files within the Forms area.
As of early April, 105 Wisconsin EMS agencies and 58 Minnesota EMS agencies are using Aladtec to provide 24/7 staffing coverage, swiftly fill open shifts and allow member to trade shifts from their smartphones and tablets. Aladtec's cloud-based platform also hosts a sophisticated form tool to speed up daily routines like rig- and med checks.
Watch a short video about how Ryan Brothers Ambulance in Madison uses Aladtec to streamline its scheduling needs.
"Prior to using Aladtec, I spent a lot of time dealing with trade requests from members. Now they take care of their own trades. It's also very easy to check the schedule from anywhere," said Dale Dow, deputy chief with Fitch Rona Fire & EMS, which serves the Dane County communities of Fitchburg and Verona. "We'll never go back to paper scheduling."
The show floor is open from 3:30 - 6 pm, Wednesday, and 9 am to 1:30 pm Thursday. Attending from Aladtec in Booth #201 will be account executives Brad Parmeter and Joe Ellis, and support specialist Nancy Newton.
Thursday's programming will feature a keynote by Captain Ray Dupuis of the Watertown (MA) Police Department. Dupuis, who oversaw communications and personnel assignments in the wake of the Boston Marathon bombing and subsequent manhunt, was on scene when the second suspect was wounded and taken into custody.
More than 125,000 staff members with 2,050 public safety agencies across the U.S. and Canada use Aladtec daily.
To access a free demonstration or for more information, visit http://www.Aladtec.com or call 888-749-5550.