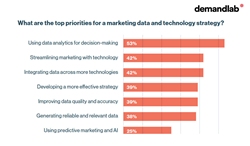 As first-wave technology matures and the second wave approaches, we wanted to see how marketing leaders were planning for the future.
PHILADELPHIA (PRWEB) April 26, 2018
Technology-focused marketing consultancy, DemandLab, released the findings of its recent marketing data and technology strategy survey. The research, conducted in partnership with Ascend2, surveyed B2B and B2C marketing decision makers and highlights their perspectives on data analytics, integrations, accuracy, and effectiveness.
"More than any other discipline, marketing has led the way in leveraging technology and data to streamline performance and refine the strategy," said Rhoan Morgan, CEO. "As first-wave technology matures and the second wave approaches, we wanted to see how marketing leaders were planning for the future."
As marketing becomes an increasingly technical and data-driven discipline, marketing leaders face new challenges and opportunities. The new report, Leadership Perspectives: Leveraging Data and Technology to Drive Marketing Success, highlights the priorities, concerns, and challenges that marketers in leadership positions must negotiate as they plan for the future.
"The survey reveals that optimism is high as marketing leaders are experiencing significant success when they focus on implementing marketing and data technology," said Todd Lebo, CMO/Partner of Ascend2. "The report also uncovers some hidden opportunities that exist for marketers as they navigate the next wave of technology to make better decisions, integrate data across more technologies, streamline marketing with technology, implement predictive marketing and AI, and more."
Key findings from the report include:

53% of marketing leaders reported that using data analytics for decision-making is a top strategic priority
Yet only 25% are prioritizing next-wave innovations such as predictive marketing and AI
50% reported that integrating data across technologies is a top barrier to success
Only 52% reported that they were acting on their integration challenges
25% consider their marketing data and technology strategy to be 'highly successful'
About DemandLab
DemandLab is a technology-focused marketing consultancy that accelerates revenue for its clients by aligning marketing, sales, and customer success functions through customized Revenue Ecosystem™ solutions that leverage system architecture, data science and analytics, and end-to-end customer journeys. With solutions designed to scale, DemandLab helps clients advance their digital transformation strategy and create competitive differentiation that advances business goals and drives revenue. Learn more about this award-winning consultancy at http://www.demandlab.com.
About Ascend2
Marketing technology companies and digital marketing agencies partner with Ascend2 to supplement their marketing content, generate leads and engage prospects to drive demand through the middle of the funnel. Learn more at Ascend2.com.