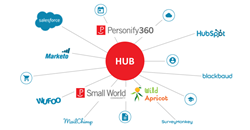 "This will revolutionize an organization's ability to connect multiple technology solutions into the Personify member management database," said Dave Cooper, Chief Technology Officer at Personify.
Austin, Texas (PRWEB) April 26, 2018
Personify, the leading provider of integrated solutions for constituent-focused organizations, wrapped up the 19th annual PersoniFest users conference in Austin. The conference, which had the highest attendance of any PersoniFest, serves as a forum for Personify clients, partners and consultants to share knowledge and best practices in the fields of technology, membership management, finance and member experiences within the non-profit and association sectors.
At the event, Chief Technology Officer, Dave Cooper, unveiled the new Personify Hub, an integration platform as a service that connects a broad ecosystem of best-of-breed industry solutions such as Marketo, Salesforce and Survey Monkey, to the Personify suite of products.
"This will revolutionize an organization's ability to connect multiple technology solutions into the Personify member management database," said Dave Cooper. "Disparate data can now flow seamlessly into Personify as a single source of truth, enabling our clients to see a full 360-degree view of engagement and interaction with constituents across multiple channels."
The Personify Hub is built on Personify's powerful Novus API's, giving organizations a deeper level of interoperability, flexibility, and extensibility. PersonifyGO leverages this foundation to provide unparalleled access and ease of use. With this modern architecture, Personify once again demonstrates its market leadership in supporting association, non-profit and chapter innovation and technological advancements.
The Society of Hospital Medicine (SHM) recently embarked on a significant digital transformation across their organization to connect hospital professionals to resources supporting improved patient care. The organization leveraged their member interactions housed within the PersonifyGO system to understand their member experience across platforms.
"By mapping this journey," said Kim Russell, Data Operations lead at SHM, "we learned how our members engaged with outreach efforts supporting a refinement of their experience through all Personify systems, most recently PersonifyGO. Aligning relevant programs to our members' wants, allowed us to gain efficiencies and better serve our members and our mission."
PersoniFest 2018 also included the Persi Awards to recognize the impact and achievements that Personify's mission-driven, member-focused clients have made in the past year. Winners include the Alzheimer's Association, the American Optometric Association, Carroll University and more. See a full list of the 2018 award winners.
With an expansive program, PersoniFest included training boot camps for beginner and advanced users, a full day dedicated to developers and power users, and over 65 sessions across these tracks:

Business and Technology
Collaboration and Engagement
Leadership and Strategy
Reporting and Data Quality
Training
The sessions include extensive opportunities for clients and staff to further their technical and managerial expertise in constituent management and engagement and offered more than 25 Certified Association Executive (CAE) credentials. At the conclusion of the conference, Personify announced that PersoniFest is headed to Savannah, Georgia on April 7-10, 2019.
###
About Personify
Personify is the leading solution provider that empowers the best constituent-focused organizations to succeed. Personify's suite of products and services enable organizations to better understand, engage, manage and monetize the relationships with their constituents in a manner that benefits everyone involved. As an organization's technology foundation, Personify captures and provides insight across all constituent interactions, allowing them to maximize engagement and drive revenue. For more information, visit personifycorp.com.