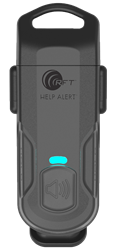 "HELP ALERT puts the 'see something, say something' concept into real-time action," says Tim Fischer, vice president of sales at RFT.
BROOKFIELD, Wis. (PRWEB) April 26, 2018
There's growing recognition within the hospitality industry, in particular, that employees working in isolation are at greater risk for harassment and/or assault. One response to such risk is the increasing prevalence of employer-provided personal panic alarms for staff protection; equipped with a mobile panic alarm such as HELP ALERT from RF Technologies (RFT), staff can promptly and discreetly notify security of a threat (and send automatic location notification) while remaining calm, knowing help is on the way—remaining calm in such circumstances, along with a swift response by security, is known to be a key factor in averting an escalation to violence. In Seattle, such protection is mandated as part of I-124, a recently-passed initiative which requires that hotels provide certain workers with panic buttons.
Hotel workers are wearing HELP ALERT in cities including New York, Washington, D.C. and Chicago (where an ordinance requiring such devices for hotel staff was passed in 2017), and similar mandates are in the implementation stages or under consideration in a number of areas within California, and elsewhere. Such protection is also being requested with increased frequency by unions representing hospitality workers (as was the case in Chicago, where the ordinance was heavily championed by Unite Here Local 1, on behalf of its membership).
RFT introduced its latest version of HELP ALERT, featuring a wireless key-fob style panic button and mass notification option, earlier this year. With the HELP ALERT system, employees carry Wi-Fi-based mobile alarms equipped to trigger personal and mass notification alerts. Security officers receive the alert location, alert type, and any nearby camera feeds. When the situation warrants, the mass notification option enables security staff to trigger a mass notification that will alert all HELP ALERT users, signaling them to follow pre-established mass notification protocols. When a mass notification alert is triggered, the system immediately goes into on-demand RTLS mode and tracks all users on a facility floor plan.
"HELP ALERT puts the 'see something, say something' concept into real-time action," says Tim Fischer, vice president of sales at RFT. "When a large scale threat emerges, a HELP ALERT user can send a mass notification alert to security personnel who can then push it to the entire campus within seconds. In these situations, seconds really count," adds Fischer. For more information on HELP ALERT, contact RFT at 800-669-9946 or http://www.rft.com
RF Technologies is a leading provider of safety and security solutions for the healthcare, hospitality, and education markets, leveraging radio frequency identification (RFID) and real-time locating system (RTLS) technologies. The RF Technologies brand family includes CODE ALERT® call and wander management systems, SAFE PLACE® patient security systems, SENSATEC® fall management products, HELP ALERT® staff duress systems, and EXACTRACK® equipment location systems. With more than 10,000 installations, RFT was the first in the industry to offer remote monitoring, RF consulting, 24/7 technical support by internal staff specialists, and a nationwide service team.