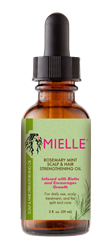 Hair is my passion and developing our new Rosemary and Mint Scalp & Hair Strengthening Oil was vital, because a healthy scalp leads to healthy hair! This new product will help our consumers achieve stronger, healthy and longer hair.- Monique Rodriguez, Mielle, CEO and Founder
(PRWEB) April 27, 2018
The number one beauty brand in hair care and growth, MIELLE™, launched their new Rosemary and Mint Scalp & Hair Strengthening Oil this past Saturday, April 21, 2018 at the 21st World Natural Hair Show in Atlanta, GA the first and largest natural hair show to much acclaim. The new Rosemary and Mint Scalp & Hair Strengthening Oil is ninety-nine percent (99%) natural and has more than thirty (30) key essential oils, vitamins and minerals to encourage healthy hair growth and moisture. This debut makes MIELLE™ the first hair care brand to successfully combine thirty oils in a lightweight formula that doesn't weigh the hair down.
MIELLE™ CEO and Founder, Monique Rodriguez spearheaded the launch, alongside successful entrepreneur and VH1 television personality Rasheeda Frost. The two shared with World Natural Hair Show attendees the benefits and various ways to obtain stronger hair using the nutrient rich and intensive formula. With a record turnout at the MIELLE™ booth, the Rosemary and Mint Scalp & Hair Strengthening Oil sold out within hours during the first day. It's infused with natural ingredients like Rosemary, Mint and Biotin to help invigorate the hair and scalp.
The Rosemary and Mint Scalp and Hair Strengthening Oil by MIELLE™ is also great for all hair types and textures, protective styles including braids and weaves and chemically treated hair. The oil has three main uses: Scalp Treatment, Daily Use, and Split End Care, and features instructions on the packaging to maximize results. With a retail price of just $9.99, the Rosemary and Mint Scalp & Hair Strengthening Oil is available for purchase online at http://www.mielleorganics.com. The affordable and innovative blend encourages healthier hair while providing shine and smoothing split ends, sure to be a top choice this summer for all hair types.
ABOUT MIELLE™
MIELLE™ has one of the most inspiring business success stories to date. Created in 2014 by Registered Nurse and Scientist Monique Rodriguez, this beauty brand began like most leading brands today - in a garage! With a deep commitment to educating, empowering, and exciting the consumers she loves, Monique set out to change the scope of Ethnic Hair Care to include innovative products that get the job done. They started their retail journey with SALLY Beauty and have since been sold by the likes of Target, CVS, Walgreens, Kroger, and Walmart to name a few. The triumph of MIELLE™ Organics has landed Monique on several major media outlets such as The Wendy Williams Show, The REAL, and more. Today, available in retail stores across the country and 87 countries, Mielle Organics is armed with an array of products including best sellers: Babassu Oil and Mint Deep Conditioning Protein/Moisture Replenisher, Detangling Co-Wash, Moisturizing Avocado Hair Milk, Adult Healthy Hair Formula and the White Peony Leave In Conditioner, just to name a few. With a heavy emphasis on incorporating organic ingredients being its "root to results," Mielle Organics continues to create a line of natural beauty products for all hair types.