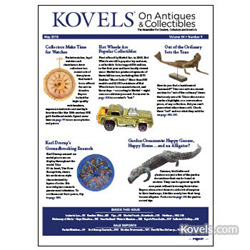 CLEVELAND (PRWEB) April 27, 2018
Pocket and pendant watches drew collectors to a recent sale of timepieces that hadn't been offered for sale in decades and they are featured in a sale report in Kovels On Antiques & Collectibles May 2018 newsletter. See the 18-karat gold Patek Phillipe triple date moon phase repeater watch that took top lot. Running and chiming correctly, it auctioned for over $30,000. Chatelaines, decorative belt-style hooks that held everyday household tools like scissors, watches, thimbles and keys for mid-19th-century women, were also in the sale. English and French examples are pictured with prices.
Karl Drerup is known for his "painterly" approach to mid-20th-century enameling. His plaques, panels, bowl, plates and other works can be found in many museums. Sixteen of his pieces were included in a recent auction in New Jersey and some went for as high as $2,500. Examples can be found in Kovels' May issue.
An auction in England recently held an "Out of the Ordinary" sale, promising "things . . . that make people stop and stare." Kovels' May 2018 newsletter pictures examples of their unique merchandise, like the wooden architectural jewelry box that brought more than $8,000, as well as a mounted and encased taxidermied goldfish and a set of Victorian-era lawn shoes for a pony that each sold for $277. And gnomes, birdbaths and planters are just a few of the garden decorations that can be found for great prices at auction. Kovels pulled together an eclectic assortment of garden ornaments from the classical to the whimsical, and they're pictured with prices in the May newsletter.
Kovel's May 2018 issue includes even more, a report on market trends for Hot Wheels collectible toy cars. Kovels goes "on the road" to Portland, Maine, to visit Victoria Mansion, one of the most beloved pre-Civil War houses open to the public. Kovels' popular illustrated Collector's Gallery answers readers' questions about a Cobridge pot, Pairpoint ice pitcher, vaseline glass covered jar and a 19th-century folding camp chair. May's Dictionary of Marks lists marks with dates used by Royal Doulton. And more than 70 antiques and collectibles are listed in May's Buyer's Price Guide.
Kovels On Antiques & Collectibles is available as a print subscription, or as a digital version that is part of the Kovels.com Premium subscription.
Terry Kovel is America's foremost authority on antiques and collectibles. She is the well-known columnist and author of more than 100 books on antiques and collecting. The 2018 / 50th anniversary edition of Kovels' Antiques & Collectibles Price Guide is currently available at Kovel.com and local bookstores. Terry Kovel will discuss antiques and collectibles topics with accredited media. Photographs are available. Contact pr(at)kovels(dot)com.
About Kovels.com
Kovels.com, created by Terry Kovel and her daughter, Kim Kovel, provides collectors and researchers with up-to-date and accurate information on antiques and collectibles. The company was founded in 1953 by Terry Kovel and her late husband, Ralph. Since then, the Kovels have written some of America's most popular books and articles about antiques, including the best-selling annual Kovels' Antiques & Collectibles Price Guide. The website, Kovels.com, online since 1998, offers more than a million free prices, and includes a free weekly email, "Kovels Komments." It gives readers a bird's-eye view of the market through the latest news, auction reports, a Marks Dictionary, readers' questions and answers and much more.
Contact Information:
Liz Lillis
216.752.2252
Pr(at)kovels(dot)com