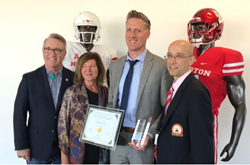 FORT WORTH, Texas (PRWEB) April 30, 2018
Inspirus, a Sodexo Group company and leader in elevating employee experiences and optimizing organizational culture through people-focused SaaS technology and integrated solutions, announced that Ryan Bott, SVP of Sales and Business Development, has received an Excellence in Leadership award. The Digital Sales Summit & Awards (ADSSA) honors the five best contributions to digital and inside sales. ADSSA celebrated the award winners at its two-day conference held at the University of Houston, April 25-26.
The Board Members of Digital Sales Summit & Awards selected Ryan as recipient of The University of Houston Steven Stanger Sales Excellence Institute Digital Sales Award - Excellence in Leadership honor based on his leadership and dedication to his role. Ryan possesses strong expertise in cloud and SaaS solutions, global pipeline development and enterprise growth. He has held several leadership roles at technology companies, including Head of Business Development in the HCM industry. At Inspirus, Ryan contributes to the company's success by helping clients transform the employee experience – from hiring to onboarding, training, development, recognition, safety and well-being in the workplace – with comprehensive engagement technology. His extensive industry knowledge along with his passion for cultivating sales teams and interacting with customers continue to develop Inspirus' growing portfolio of global accounts.
"This award is well deserved! Ryan is an authentic leader who emphasizes coaching and development to enable team members to reach their highest potential – and that's a style and approach we hold in high regard at Inspirus," commented Mia Mends, CEO of Inspirus and Sodexo Benefits and Rewards Services, USA.
The Digital Sales Summit & Awards was designed and developed in partnership with the Stephen Stagner Sales Excellence Institute, a global leader in sales research and digital sales.
About Inspirus
Inspirus believes employees make up the foundation of culture, which is shaped and evolved through everyday experiences that are essential to the development of strong, high-performing organizations. We seek to influence the employee experience through our six Quality of Life dimensions: recognition, health and well-being, personal growth, physical environment, social interaction, and ease and efficiency.
Only Inspirus combines an integrated rewards engine, learning courses, communication tools and analytics into a single platform spanning recognition, well-being, safety, milestone awards and community involvement. Through Sodexo's broader mission of improving the Quality of Life of all we serve, Inspirus aims to bring joy to work, one experience at a time.
Visit inspirus.com for more information.