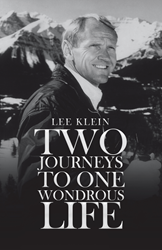 SAN FRANCISCO (PRWEB) April 30, 2018
Author Lee Klein's longtime service in the US Navy took him from World War II as an enlisted man through the Korean and Vietnam eras as a commissioned officer. In "Two Journeys to One Wondrous Life," he shares his story of being a closeted gay man in the military and his life moving forward.
In the aftermath of repealing "Don't ask, don't tell," the book offers a fascinating look into the past and what it was like for a gay man to serve in the military.
"The book is the sharing of blocks of time in my life revealing how I had to live two separate lifestyles, so I could keep my security clearance and keep my gay life in the closet for most of my adult life," said Klein. "I also hope to influence young gay men and women by letting them know that it gets better."
"Two Journeys to One Wondrous Life" shares the personal narrative of a gay man who is a veteran of a decades-long military career, recalling his experiences of a life well lived.
"Two Journeys to One Wondrous Life"
By Lee Klein
ISBN: 9781532037412 (softcover); 9781532037429 (eBook)
Available at the iUniverse Online Bookstore, Amazon and Barnes & Noble
About the author
The seventh of eight children, Lee Klein was born in 1924 in Lincoln, Nebraska. During his military career, he served in naval bases from Alaska and the Aleutian Islands to the North and Baltic Seas, and he worked as a carrier pilot during the Cold War. Klein also worked in the restaurant business, opening his first restaurant in 1972, in Cloverdale, Sonoma County, California. His life has been an incredible, wonder-filled, surprisingly serendipitous, happy life of two journeys. To learn more, please visit http://www.leekleinauthor.com.
General Inquiries:
LAVIDGE – Phoenix
Bryan Beach
480-306-6554
bbeach(at)lavidge(dot)com
Review Copies & Interview Requests:
LAVIDGE – Phoenix
Kiersten Woglom
480-998-2600 x 586
kwoglom(at)lavidge(dot)com