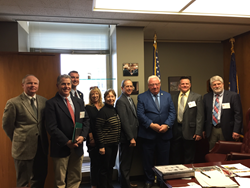 ALBANY, N.Y. (PRWEB) April 26, 2018
The Northeastern Retail Lumber Association – New York (NRLA-NY) announced its 2018 legislative priorities during its annual Lobby Day at the State Capitol, on Monday, April 23. Members representing NRLA-NY's 343-member companies spoke with Senators and Assembly members in support of exempting materialmen from retainage, unemployment insurance reform, and reducing regulatory burdens on small business.
Exempting Materialmen from Retainage
"Our members provide materials to private and publicly funded building projects," said Dana Schnipper, chair of NRLA-NY's legislative committee. "Retainage is being used in a greater number of construction projects, placing more of a burden on independently-owned and operated building material dealers."
Retainage represents an amount of a contract that is withheld on labor until the work is completed in order to ensure that the contractor or subcontractor completed their work properly and has met their obligations to the project. Materials are completed products and once delivered, that portion of the contract is completed, as the materialmen no longer have any control over the products.
Schnipper explained, "There is no other industry where a consumer can purchase a completed product, but hold back a portion of payment for that product."
Unemployment Insurance Reform
Small businesses face numerous challenges that they must deal with every day. There are currently bills in the Senate and Assembly that would effectively close a bizarre loophole in unemployment insurance regulations.
Jeff Keller, Director Legislative Affairs at the Northeastern Retail Lumber Association explains, "Currently, if an employee voluntarily leaves a company and then is fired from their new employer less than six months later, the first company's unemployment insurance is responsible for payment. This leaves the original employer on the hook for potential liability even though they no longer are the employer, have no control over the employee, and have no say in the actions of the new employer."
The proposed legislation would fix this oversight in unemployment insurance. The employee would still be eligible to receive unemployment benefits, and it would protect the employer from being liable for additional costs for somebody that is no longer an employee.
Regulatory Reform
NRLA-NY members play a vital role in the success of New York, contributing more than $142,000,000 annually in sales tax revenue, and employing more than 16,000 people. Unfortunately, the current regulatory system in the state is complicated to navigate and focuses more on enforcement and penalties than of dialogue and compliance.
Proposed legislation would help to expand the public comment period to 30-days to 45-days, giving businesses and associations an opportunity to be more active participants in the regulatory process. Additionally, bills in the Senate and Assembly would help move the regulatory agencies away from punishing small businesses for a first-time violation that they may not have known about and instead focus on helping them comply with new regulations.
For more information contact Jeff Keller, Director of Legislative & Regulatory Affairs, at jkeller@nrla.org or 518-880-6376.