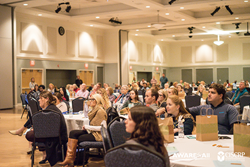 Dr. Andreas Koester, Vice President at Janssen Clinical Innovation comments, "We are excited to raise awareness for clinical research in general and in underserved populations by collaborating with CISCRP."
BOSTON (PRWEB) April 30, 2018
The Center for Information and Study on Clinical Research Participation (CISCRP) invites the Los Angeles community to attend AWARE for All, a FREE community health event on Saturday, May 19, from 11:00 a.m. – 3:00 p.m. PDT at USC's Trojan Grand Ballroom. CISCRP's AWARE for All program is hosted in cities all over the world and is a chance to bring educational health information directly to patients and the public.
Attendees will enjoy a free lunch and a variety of health screenings including blood pressure checks, fasting blood sugar, lipids, foot screens, diabetes, and one-minute HIV rapid tests. The event will include an "Information Alley" for attendees to connect with local and national community health advocates and researchers. There will also be an overview presentation about clinical research, a panel discussion featuring research professionals and study volunteer experiences, as well as inspirational remarks from local celebrity guest athletes.
The event is produced by CISCRP with the support of Host Sponsor Janssen, National Sponsor Lupus Research Alliance, Local Sponsors Providence Clinical Research, Science 37, and Bienestar, and Outreach supporters CenterWatch, The Conference Forum, WeHealth, and Wondros. Dr. Andreas Koester, Vice President at Janssen Clinical Innovation comments, "We are excited to raise awareness for clinical research in general and in underserved populations by collaborating with CISCRP."
As part of this program CISCRP has collaborated with Wondros to develop an educational mobile unit. In the days leading up to AWARE, our first-of-its kind 'Journey to Better Health' RV will visit various neighborhoods around Los Angeles. The mobile unit will offer interactive activities and educational resources about clinical research. Jesse Dylan, the Founder of Wondros, remarks, "Like CISCRP, we believe not only in the value of clinical research, but in the critical importance of ensuring that diverse communities are properly represented. We're proud to be able to do our part to help bring this vision to life." For information on the locations that we will be visiting, visit awareforall.org.
AWARE for All – LA will be held on Saturday, May 19, 2018 from 11:00 a.m. - 3:00 p.m. PDT at the Trojan Grand Ballroom at USC (located on the basement floor of the Ronald Tutor Campus Center) 3607 Trousdale Parkway, Los Angeles, CA, 90089. Attendance is free, but please reserve your spot today by visiting http://www.awareforall.org or by calling toll free 1-877-MED-HERO (1-877-633-4376).
ABOUT CISCRP:
The Center for Information and Study on Clinical Research Participation (CISCRP) is a 501(c)(3) non-profit organization dedicated to engaging the public and patients as partners in the clinical research process. CISCRP provides free education and outreach to the general public and patient communities. Visit http://www.CISCRP.org for more information or to support CISCRP's educational initiatives.