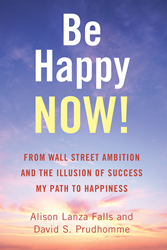 PORT CLINTON, Ohio (PRWEB) April 30, 2018
Everyone's journey is distinctive, but many individuals are not open to sharing their personal story of doubt, fear and triumph. From the outside looking in, others might think Alison Lanza Falls was satisfied with her New York investment banking career and supportive family, yet she was profoundly unhappy.
That was until she found David S. Prudhomme who introduced her to his transformative The Best Me NOW™ process. Falls and Prudhomme now divulge the lessons they have learned together in "Be Happy NOW! From Wall Street Ambition and the Illusion of Success, My Path to Happiness."
"Be Happy NOW!" highlights the combined efforts of Falls—a Certified High-Performance Coach™ and business professional—and Prudhomme—a mind coach, inspirational speaker and creator of The Best Me NOW® program. Together, they outline central principles of Prudhomme's program, such as understanding how your conscious and subconscious minds actually work, learning how to choose your emotions, thoughts and behavior, letting go of old limiting beliefs, releasing deep-seated fears, practicing forgiveness, loving oneself and others unconditionally, and consciously choosing to be happy and healthy NOW.
Falls reveals her personal journey in "Be Happy NOW!" Using her own story, she provides insight on applying these universal truths such as letting go of loved ones, exercising forgiveness and loving oneself, preparing the mind for excellence and enhancing self-talk. Starting with her early days as a Wall Street banker, Falls' life begins to evolve and grow under the guidance of Prudhomme and The Best Me NOW!® framework.
"For me, my journey through David's process was transformational, and now it is my turn to help readers in the same way," Falls said. "'Be Happy NOW!' will appeal to readers who are interested in achieving authentic happiness and a true understanding of self."
"Alison and I wanted to share a powerful framework that shows the reader personal change is possible for all of us, and it follows a specific path of perception, awareness and choice," Prudhomme said. "This book is an example of what a true positive life transformation can look like and a guide for the reader to find their path to a healthier and happier life.
An educational tool, "Be Happy NOW!" attests that true positive change is possible with awareness, courage and determination. For more information, please visit http://www.behappynowfallsprudhomme.com/ .
"Be Happy NOW! From Wall Street Ambition and the Illusion of Success My Path to Happiness"
By Alison Lanza Falls and David S. Prudhomme
ISBN: 9781480833944 (hardcover), 9781480833937 (softcover), 9781480833920 (e-book)
Available at Amazon, Barnes and Noble and Balboa Press
About the authors
Alison Lanza Falls climbed the corporate ladder to heights few women have achieved as Managing Director at BankAmerica Securities on Wall Street. With the prestigious global certification of CFA, Chartered Financial Analyst, Falls became intimately acquainted with stress. Falls also serves on corporate and non-profit boards as an independent director, with expertise in finance, governance and strategic planning. Her leadership on corporate governance and investment policy is highly respected from her service on the Ohio Bureau of Workers Compensation Board of Directors and as Chair of the Governance Committee and Vice Chair of the Investment Committee from 2007-2010. Falls turned all her strategic and analytical skills honed over 30 years, to help people reduce their everyday stress, discover the habits of high performers and experience the joy and confidence of consistently living from your best self.
David S. Prudhomme is the founder and Director of Mederi Wellness LLC. He is the creator of The Best Me NOW!®, a transformational process that is powerful and well-grounded in the latest research. Prudhomme is also the co-creator and co-author of "FROM STRESSED TO BEST: A Proven Program for Reducing Everyday Stress." He is a graduate of the United States Naval Academy and has a Masters in Broadcast Journalism from Boston University. He flew combat missions as a Marine Pilot in Desert Storm and was an Investigative Television Reporter. He acquired his vast knowledge of the body as a Medical Representative in the fields of Cardiology and Cancer. He acquired his knowledge of the mind helping thousands of clients as a Certified Consulting Hypnotist and Master Practitioner of Neuro-linguistic Programming. Every day Prudhomme helps people shift from where they are to where they want to be mentally, physically and emotionally using the power of their minds. Today as a mind coach, Certified High Performance Coach™ and inspirational speaker, David is living his life purpose to help everyone understand themselves and others better and to live their best life.
General Inquiries, Review Copies & Interview Requests:
LAVIDGE – Phoenix
480-648-7557
dgrobmeier(at)lavidge.com