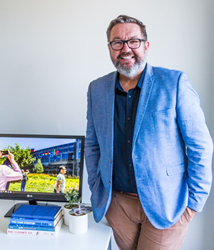 The idea of SiliconValleyUnlocked.com is to take small groups of executives and young entrepreneurs and fully immerse them in Silicon Valley's culture to learn the key lessons from very successful startups.
NEW YORK (PRWEB) April 27, 2018
For the classic workaholic and business executive driven to succeed, weekends and holidays are not moments to recharge or reminisce, but merely a continuation of the previous work week. But for Jayson Frazer, founder of Silicon Valley Unlocked, a destination tour and business education company for corporate climbers and success-driven start-ups, the idea was borne from the adage, "if you can't beat them, join them." In a world of custom a-la-carte choices, Silicon Valley Unlocked is less of an industry "disruption" than it is a solution for business-driven individuals who don't know when (or how) to put their iPad down. ExpertFlyer.com recently went One-on-One with Jayson to learn how this unique tour/business education company has found the perfect balance between work and play for executives who can't find it for themselves.
"I was pleasantly surprised to find so many really smart people willing to share what they've learned, and work with us to kick off our first boot camp in the San Francisco Bay area in June," explained Jayson Frazer who created SiliconValleyUnlocked.com from business experiences gained in his native Australia. "The idea is to take a small group of participants or 'delegates' to Silicon Valley, and fully immerse them in that culture to learn the key lessons of these successful startups, including Google, Airbnb, Apple and more."
Frequent visits with tech leaders in the area helped Frazer discover that everywhere was a learning experience and the ideal location to host this new, and admittedly odd, travel destination adventure. "Silicon Valley really is the heart of innovation, globally -- including self-driving cars buzzing around the streets and free thinking minds in the boardrooms."
Frazer was quick to add that the learning is experienced on two levels. The first, of course, comes from what is shared by participating tech experts whose innovations have literally changed how we live our lives. The second level comes from what participating delegates learn from each other during their time together.
"SiliconValleyUnlocked.com offers a very unique opportunity for business executives and young innovators to meet like-minded people with similar ambitions in an environment that combines learning and luxury," said Chris Lopinto, president and co-founder of ExpertFlyer.com who also made the list of top innovators on Long Island.
SiliconValleyUnlocked.com can create custom business / leisure destinations for executives and their companies based on their industry, interests, and corporate direction. 
To learn more about SiliconValleyUnlocked.com and listen to the podcast with Jayson Frazer, visit ExpertFlyer's blog.
About ExpertFlyer.com
Each month, ExpertFlyer's One-on-One blog goes face-to-face with the travel industry's leading decision makers to discuss and address topics relevant to many of today's business and frequent travelers.
ExpertFlyer.com was conceived and created by an eclectic team consisting of a veteran elite tier frequent flyer, an airline captain and corporate travel manager, and information technology professionals to deliver a 24/7 real time powerful air travel information service. The company provides its subscribers and corporate travel managers alike with a complete, concise and efficient way to access the ever-changing details of worldwide air travel information. For more information, please visit expertflyer.com.
Stuck in the middle seat again? Download the free Seat Alerts app from ExpertFlyer and get the window or aisle seat without hassle or frustration.