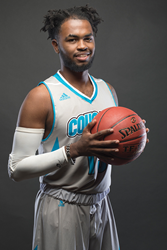 (PRWEB) April 28, 2018
A men's basketball team two-year captain with a 3.8 grade point average and multiple offers to continue his basketball career at the university level along with a right-handed shortstop on the softball team with a 4.0 grade point average were recently named Kalamazoo Valley Community College Dale B. Lake Award winners.
Tre Humes, a 6'5 forward and two-time academic all-American on the men's basketball team and Emma Nuyen, who currently leads the softball team in stolen bases, average, on base percentage, and slugging percentage, received the annual award in honor of the college's founding president, Dale B. Lake.
"Tre is a great ambassador for the Kalamazoo Valley Community College Athletic Program," said Men's Basketball Head Coach Jim Horn. "He is a young man who is focused on and off the court, with a goal of getting a degree in finance with an emphasis in banking. There is no doubt in my mind he will go on to a four-year school to play basketball, finish his degree, and have a career in finance. He is well liked by his teammates and coaches, and was a leader by example with an excellent work ethic on the court and in the classroom."
Humes, who was selected as the student speaker at the college's 81st Commencement ceremony last month, is currently deciding between several schools, including Kalamazoo College and Goshen College, to continue both his education and basketball career in the fall.
Head Softball Coach Morgan VanderBor nominated Nuyen to receive the 48-year-old award given annually to one outstanding male and one outstanding female student-athlete.
"Emma is one of those people who will consistently put effort into everything she does, even if it's more than what is expected of her," VanderBor said. "She has proven to be a valuable leader for the team. Many of the girls not only look up to her as a crucial part of this team, but they also reach out to her when they struggle in classes. Emma has been able to improve grades of others by helping teammates during study tables on multiple occasions, even though she has plenty of work to do herself."
Nuyen was 22nd in the nation last season for doubles and triples. She continues to lead the team in both again this year. The Otsego native graduated last month with an associate degree in business administration. She will continue her studies at Western Michigan University this fall.
The Dale B. Lake Award began in 1970 in honor of Kalamazoo Valley Community College's founding president. It is an effort to give annual recognition to one outstanding male and one outstanding female student-athlete. Special consideration is given to exceptional academic achievement as well as outstanding athletic contribution. Qualities such as leadership, loyalty, enthusiasm, reliability, and initiative are also evaluated. Each coach may nominate one individual to the Athletic Director for consideration for the Dale B. Lake Award. The Athletic Director then selects one male and one female award winner. Winners receive plaques and their names are added to the Dale B. Lake plaque displayed within the Coaches Office at Kalamazoo Valley.