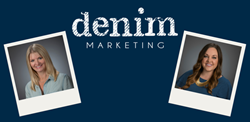 Both roles held by these inspirational women give them an opportunity to implement original and innovative ideas within the industry.
ATLANTA (PRWEB) April 26, 2018
Denim Marketing congratulates President Carol Morgan and Senior Account Manager Courtney Rogers on their new leadership roles in the homebuilding industry. Both roles held by these inspirational women give them an opportunity to implement original and innovative ideas within the industry.
Carol Morgan, MIRM, CAPS, CSP, is the 2018 National Association of Home Builders (NAHB) Membership Chair. In this position, she will work to increase membership and achieve the needs of current and future members. Working as Membership Chair is a highly visible role in a member-driven federation like NAHB. Morgan and her committee focus on growing the association by reaching a wider and more diverse group of potential members.
"NAHB's demographic mix hasn't changed much over the years, while the makeup of the industry has changed," Morgan said. "By targeting under-represented groups, NAHB will become more representative of the industry as a whole. This positions us for significant growth."
Courtney Rogers, Denim Marketing's dedicated Senior Account Manager, was announced as the first chairperson of the Greater Atlanta Home Builders Association's (GAHBA) brand-new Young Professionals Group. Originally created and launched by the GAHBA's Professional Women in Building (PWB) Council under the name Elevate, the Young Professionals Group seeks to involve members of the homebuilding industry age 40 and younger in the local GAHBA.
"I am so excited and honored that I was chosen to lead the charge for young professionals in our industry," Rogers said. "We had great guidance and support from PWB, and we are excited to continue our growth as our own faction."
According to Rogers, the Young Professionals Group will provide great programs with plenty of networking and fun and educational opportunities throughout the year. The goal is to bridge the gap and get the under-40 crowd involved in the HBA at an earlier age.
Both Morgan and Rogers are excited to begin this journey in their new influencing roles. To learn more about these incredible women, visit http://www.DenimMarketing.com or call 770-383-3360.
About Denim Marketing:
Whether stonewashed, faded or indigo blue, marketing strategies from Denim Marketing are tailored to meet each client's needs and niche. Established in 1999 as Flammer Relations, Denim Marketing began with the basics, providing public relations services to clients. The company has expanded its services over the years to become a full-service strategic marketing agency specializing in media relations, blogging, social media, promotions, advertising and much more. Denim Marketing aims to be your go-to source when you are looking for a comfortable fit, strong relationships and results. For more information, call 770-383-3360 or visit http://www.DenimMarketing.com.