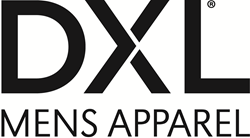 CANTON, Mass. (PRWEB) April 26, 2018
Destination XL Group, Inc. (Nasdaq:DXLG), the largest omni-channel retailer of men's XL apparel, has launched its newest campaign entitled "Built XL" The campaign will launch on ESPN during the NFL draft on April 26th.
The inspiration for the campaign originated from consumer feedback about shopping at a DXL Men's Apparel store – in particular, the "wow" factor that consumers experience when they shop DXL for the first time. The "Built XL" campaign will reinforce this message across multiple touch points including broadcast and cable TV, radio, digital advertising, direct mail, and in-store.
In the TV spot, an XL guy sees the store being built around him while quick-cut transition shots capture his style transformation from tee-shirts to athletic wear to sport coats and suits. As the DXL store builds itself around him, his style and confidence build with it. Radio ads will remind guys that if they are built "like a power forward or a power lifter," DXL is the place to find clothes that fit and look great.
"This is truly an insight-led campaign," said Jim Davey, Executive Vice-President and Chief Marketing Officer at Destination XL Group. "We know that what makes DXL special with bigger guys is the in-store experience – from the vibe of the store to the wide range of brands to highly-trained associates who will ensure a perfect fit every time. The "Built XL" campaign brings to life that DXL experience."
The campaign is the first collaboration between DXL and agency TAXI New York. "Built XL is all about the brand truth that DXL is built for XL guys and XL guys only," says TAXI President David Jenkins, "It's all about letting them know that there really is a place where they don't have to compromise on fit, quality, or experience. It's about respect. And it's a message our audience has been waiting to hear for a long, long time."
The spot was directed by Harry Dorrington of Nice Shoes, which also did all of the complex compositing and special effects work. "To build the spot and make it look authentic, we literally built the store from the ground up," says Jenkins, "Then tore it apart piece by piece. So what you're seeing on screen is really the way we shot it."
The official kickoff to the campaign will happen during the NFL Draft on Thursday, April 26th. Spots will run on several major networks including FX, CNN, TBS and on live sports programming for NBC Sports, MLB Network and ESPN. Aside from TV, 'Built XL' will also have a presence on radio including on-air highlights from Howard Stern (SiriusXM) and Golic and Wingo (ESPN) and a digital placements on ESPN.
DXL understands that all guys are not built the same. Bigger and taller guys don't wear the same sizes as other guys and often need extra attention and selection to find great clothes that fit perfectly. At DXL, they'll find over 100 brands such as Levi's, Lacoste, Lucky Brand, Reebok, Psycho Bunny, and Brooks Brothers — and, best of all, they'll find it in their sizes. And if they prefer shopping online, destinationXL.com carries an even broader selection of brands guys love.
About Destination XL Group
Destination XL Group, Inc., with over 200 stores, is the largest retailer of men's apparel in sizes XL and up, with operations throughout the United States as well as in London, England and Ontario, Canada. In addition to DXL Men's Apparel retail and outlet stores, subsidiaries of Destination XL Group, Inc. also operate Rochester Clothing stores, Casual Male XL retail and outlet stores, and e-commerce sites, including destinationXL.com and mobile site m.destinationXL.com.
destinationXL.com offers a multi-channel solution similar to the DXL store experience with the most extensive selection of online products available anywhere for the XL guy. The Company is headquartered in Canton, Massachusetts, and its common stock is listed on the NASDAQ Global Market under the symbol "DXLG." Sizes start at XL including tall sizes, plus shoe sizes 10-16, in widths to 4E.