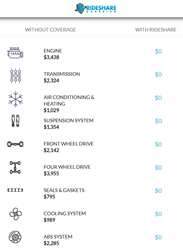 Never Pay For Repairs Again!
NEW YORK (PRWEB) April 27, 2018
Rideshare Guardian, a service contract, extended warranty, for cars that are utilized in the ride-sharing economy, including Uber, Lyft, Juno, Via, and other up-and-coming apps, this week announced its website and coverage service is available for all interested drivers today.
Since Original Equipment Manufacturers (OEM) and third-party providers do not cover vehicles used in the ride-sharing economy, Rideshare Guardian is changing the norm with exclusionary bumper-to-bumper coverage.
"These drivers shouldn't have to front the repair costs and unforeseen expenses of operating their business through a moving vehicle today," said Max Zanan, Founder and CEO of Rideshare Guardian. "With roadside assistance, transferrable properties, and unlimited mileage perks, this is extended warranty coverage that will make driving as a shared driver profitable and secure moving forward."
Rideshare Guardian includes an unlimited mileage clause, with no mileage limit established for drivers. This way, drivers aren't penalized for the amount of road they cover during the day. The platform also includes roadside assistance, covering flat tires, fuel, oil, towing, water delivery, lock outs, and battery assistance anywhere, anytime.
Also including nationwide coverage, Rideshare Guardian offers $100 per visit deductible, as well as transferrable rights to the new owner when the vehicle is sold.
"This platform will make life easier for the 400,000 Uber and 315,000 Lyft drivers out and about on the roads in the U.S. today," said Zanan. "With the Uber warranty and Lyft warranty guarantees, drivers don't have to worry about fronting money for their car repairs. We cover both parts and labor, as well as roadside assistance, so they can solely focus on their ride sharing business. Spread the word regarding our official foray into the ride sharing market."