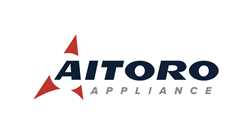 "We welcome everyone to come by and get immersed in the Monogram Experience." - Tony Aitoro
NORWALK, Conn. (PRWEB) April 27, 2018
Aitoro Appliance, a family-owned and operated luxury appliance store serving Fairfield County and beyond, announced that it has opened the exclusive Monogram Experience at its award-winning, 12,000-sq.-ft. showroom.
Monogram, a premium luxury brand of expertly engineered and purposefully designed kitchen appliances, selected Aitoro as the location for its first Monogram Experience on the East Coast. The ultra-premium appliance brand represents the very best in detailed-oriented design with exceptional craftsmanship, understated durability and artistry at its forefront to Elevate Everything™ in the kitchen and beyond.
The Monogram Experience at Aitoro is a carefully constructed showcase of kitchens highlighting Monogram's stunning products, including ranges, cooktops, ovens, refrigeration, and the first indoor electric pizza oven that doesn't require ventilation.
"We are thrilled to introduce the distinctive Monogram Experience to customers in the Northeast," said Keith Larsen, executive director, Monogram. "Aitoro Appliance is known for its impressive showroom and unparalleled customer service, so it made sense to partner together to fulfill Monogram's mission to help modern homeowners Elevate Everything."
Currently, only one other Monogram showcase of its kind exists: The Monogram Design Center in Chicago.
"Monogram exemplifies some of the most superior products on the market right now," said Tony Aitoro, CEO of Aitoro Appliance. "Not only is it the most refined and technologically advanced line, but it also effectively serves the growing everyday needs of today's family. This is certainly creating a buzz in the industry, and we welcome everyone to come by and get immersed in the Monogram Experience."
To celebrate the Monogram Experience's Grand Opening, Aitoro—now in its 70th year of offering the best in appliances and customer experiences—is hosting public events throughout this weekend.
From today through Sunday, top-rated chefs will provide expert cooking demos on Monogram products, and specialists will be on hand for consultations.
In addition to being the designated site of Monogram's first East Coast kitchen showcase, Aitoro Appliance was also presented with the Home Builders & Remodelers Association's coveted "2017 Best Showroom Award" at the HOBI Awards last November, as well as named "2017 Retailer of the Year" by the Connecticut Retail Merchants Association.
About Aitoro Appliance
Family-owned and operated, Aitoro Appliance has been outfitting homes with beautiful, efficient appliances for over 70 years across four generations. With a focus on customer service, Aitoro's incredible 12,000-sq.-ft. showroom in Norwalk offers appliances from the industry's most upscale and popular brands. Showcasing 12 furnished, functioning kitchens, Aitoro is a welcoming place for customers on any budget to realize and experience the home of their dreams.
http://www.aitoro.com
About Monogram®
Monogram® takes pride in its quality and artistry, crafting appliances that are expertly engineered and purposefully designed with a minimalist elegance that reflects the personality and lifestyles of owners with distinctive tastes. With an uncompromising attention to every detail, every material and every industry-exclusive, award-winning feature, Monogram appliances Elevate Everything™ in the kitchen. For more information on Monogram ranges, cooktops, microwaves, pizza ovens, refrigerators, freezers, ice makers, wine reserves, dishwashers and compactors, visit http://www.monogram.com.