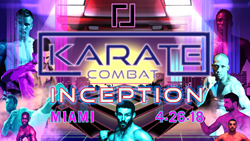 The event will be announced by Karate expert and former MMA star Bas Rutten, and former Bellator announcer, Sean Wheelock.
MIAMI (PRWEB) April 26, 2018
What: Karate Combat: Inception throws the world's top karate fighters into the patented Karate Combat Fighting Pit for Full-Contact action. The invite-only event will be streamed live to a global audience.
When: April 26, 2018. Stream begins at 9:30 PM EST
Who: The event will be announced by Karate expert and former MMA star Bas Rutten, and former Bellator announcer, Sean Wheelock. The main event is Elhadji "Black Magic" Ndour (USA) v Andras Virag (Hungary). Other fights include Josh Quayhagen (USA) v Abdalla Ibrahim (USA); Alexandre Bouderbane (France) v Dionicio Gustavo (Dominican Republic); Pedro Roman (Spain) v Jerome Brown (UK); Spyros Margaritopoulos (Greece) v Mohamed Salem Mohamed (USA); and Adham Sabri (USA) v Abdou Lahad Cisse (France). (Fight card subject to change).
How to Watch: The public can live stream Karate Combat: Inception for free via The Gateway to Karate at http://www.karate.com and the free Karate Combat apps for iOS and Android. (Alternate partner streams are available via Dailymotion, the FITE app, and CBS' SportsLive).
Context: Just two weeks since it launched, Karate Combat has received worldwide attention, with fighters lining up to apply, rules debated on podcasts and blogs, features in Sports Illustrated, BBC Sportshour, USA Today, Vice, CNN, SB Nation, HK01, Cheddar and Ouest France and social media booming. Chuck Liddell and Bas Rutten were announced as advisors and ambassadors, and Bas's appearance on the Joe Rogan Experience became one of the most popular MMA show episodes of the series. The new full contact rules will change how the public looks at karate. And the creation of a mainstream pro league, with cinematic production values, will return the martial art to its rightful place as an important global sport. Karate Combat has also entered into a marketing agreement with Cobra Kai, the Karate Kid sequel series on YouTube Red.
Please note: The event is not open to the public and is invitation only.
There is limited room for media at the event.
For photos, video, interview opportunities or access to the event please contact: Owen Phillips, owen(at)karate(dot)com
About Karate Combat
Karate Combat is a premier Karate brand which operates a professional full contact karate league, sports equipment business, and worldwide Dojo network. The Company seeks to evolve the traditional sport of Karate via KARATE.com, the World's Gateway to Karate, and branded mobile apps. The firm is headquartered in New York City with satellite offices in Calabasas, CA and Budapest. For more information visit http://www.karate.com.