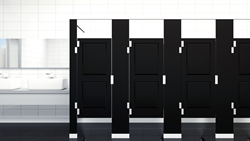 In addition to our new Signature door and panel options, every Hiny Hiders system can be customized with a limitless array of great looking hardware and privacy alternatives.--Robert Donlon, VP Sales & Marketing, Scranton Products
SCRANTON, PA (PRWEB) April 27, 2018
Scranton Products, a world leader in restroom partitions and lockers, has introduced its new Hiny Hiders® Signature Collection to combine durability with six new door designs and side panel options. Available in more than 30 traditional, warm-tone, bold and metallic colors, the new collection is ideal for turning traditional commercial restrooms into stunning showpieces –now complete with door engraving capabilities that will enhance your overall commercial restroom design.
"Hiny Hiders Partitions create unique, attractive interior spaces that standout in any office or facility environment," said Robert Donlon, Vice President, Sales & Marketing, Scranton Products. "In addition to our new door and panel options, every Hiny Hiders system can be customized with a limitless array of great looking hardware and privacy alternatives."
Each Hiny Hiders partition is designed to provide years of worry-free service. Numerous style options also include wide-ranging floor mounted overhead-braced, ceiling hung or floor to ceiling configurations.
In addition, Hiny Hiders save time, hassle and maintenance costs. Their HDPE material is resistant to scratches, dents, writing/graffiti, and mold. Backed by a 25-year limited warranty, they don't need repainting, are easy to clean, and never rust, corrode or delaminate.
To learn more about Scranton Products' new Hiny Hiders Signature Collection please visit http://www.scrantonproducts.com or call
800-445-5148.
About Scranton Products:
With more than 30 years of experience, Scranton Products provides "Innovative Solutions for a Better Future," with innovative, creative designs that create a lasting impression. The industry leader in plastic bathroom partitions and lockers, Scranton Products bathroom partitions and lockers are constructed from premium, American-made solid plastic for unmatched durability that stands up to dents, scratches, corrosion, graffiti and mildew. When you purchase Scranton Products, you are investing in peace of mind. With endless design options and an array of designer colors and textures, Scranton Products installs confidence and elegant style in every project.