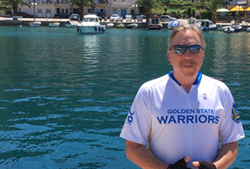 Online review sites aren't going away anytime soon. Recognizing this is an important factor for physicians and healthcare practices alike...
SANTA ROSA, Calif. (PRWEB) April 27, 2018
More people than ever are frequenting review sites like HealthGrades, Google and Yelp to read and leave comments, and to make healthcare decisions based on what they find there. As a result, physicians are hard pressed to keep ahead of online trends and to take the digital review system seriously. JB Communications of Santa Rosa has recently expanded their Digital Reputation Services to make it possible for more patients to tell their stories and for physicians to use patient feedback in positive and practice building ways.
JB Communications has focused on online physician reputation for more than a decade now, making them a leader in innovation and management of clients' online image. "Online review sites aren't going away anytime soon. Recognizing this is an important factor for physicians and healthcare practices alike," explains John Beilharz, Ph.D. of JB Communications. "Since the online review phenomena first exploded onto the internet, we have tracked the impact, using it as a research tool to not only enhance our client's reputation but to also provide invaluable feedback to practices who want to improve productivity and increase patient referrals," he said.
"Over time we discovered that only a small fraction of people who use physician review websites will actually take the time to leave a review for their own physician or provider, leaving many positive patient experiences unreported. Knowing that one negative review has the potential to skew an overall rating unfavorably and to possibly put off a potential new patient, it was important to find a way to give a voice to real patient experiences as immediately as possible, and to share those experiences in meaningful and accessible ways. Our newly enhanced Digital Reputation Program is geared towards doing just that."
Patient Comments Matter

Today, more than ever, online review sites and public comments from patients is one of the most important resources for healthcare consumers when it comes to choosing a physician.
It is becoming more and more apparent that online reviews have an incredible power to motivate consumer behavior. Social media and real-time feedback from other consumers is a major resource for people making healthcare decisions today.
Medical journals as well as reputable research institutes are increasingly correlating online reviews of physicians for capturing and analyzing patient perspectives of care provided.
"The importance of online review data cannot be overstated, and it's something you don't want to ignore, especially when you are trying to build a business or practice. Our new system of capturing patient comments immediately after an office visit is proving to be a goldmine of information for providers and physicians alike," Beilharz explains. "Using digital conversion of this information we are able to help providers deal with negative comments in productive ways, while getting the word out about positive patient's experiences almost immediately."
A survey published in the Journal of the American Medical Association in 2014 reported that of consumers who turned to online reviews, 35 percent of respondents would select a physician based on positive reviews, while 37 percent avoided doctors with negative reviews. When searching for a provider a patient might turn to several popular doctor review sites like HealthGrades and Vitals, while a 2018 survey from ReviewTrackers reports that 6 in 10 consumers now look to Google for reviews. The current marketing trend is to capture potential new patient's attention by having a strong presence of positive reviews across multiple ratings sites. JB Communications focuses on beating the traditional SEO trends by publishing reviews directly to the healthcare provider's website, a theme that is paying off in new patient referrals.
"Our reputation management program makes it possible for us to capture positive reviews and post them to the practice website automatically. We also communicate with patients and encourage them to visit other review sites as a way to keep new reviews relevant," Beilharz says. "This practice helps to enhance the SEO of physician reviews overall, and elevates the practice website to the top of the search."
About JB Communications
JB Communications, a veteran in the Medical Marketing industry since 1984, incorporates a full spectrum of marketing modalities individually tailored to meet the needs of clients. Some of our strategies may include; a dynamic website, reputation management, content management through social media, online public relations, SEO, custom E-mail, keeping physician online profiles current, and more. With the proper information and a smart online public relations protocol, online reputation can become a medical practice's biggest competitive advantage. To learn more about JB Communications image management programs, visit http://www.jbadvertising.com.