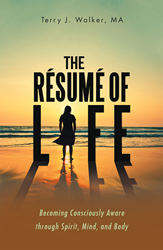 PHILADELPHIA (PRWEB) April 30, 2018
As we move through life, experiences, opportunities and moments leave their mark on our minds and souls. Too often, it is the negative encounters that impact us the greatest, weighing us down and burdening us with internalized self-doubt. Terry J. Walker aids readers in examining those moments and learning to release them with "The Résumé of Life: Becoming Consciously Aware Through Spirit, Mind and Body."
"The Résumé of Life" is a self-help guide that aids readers in establishing where they came from and where they are going. Walker works with readers to recognize the behaviors or mentalities that either sabotage or enhance the greater self. She poses insightful questions to help discern why you are here, what you have to offer and how to build on your past.
A special emphasis is placed on recognizing those events that changed the course of a reader's life. Walker works to determine how those moments consciously and subconsciously impact the ability to move forward in life.
She uses her own backstory as a platform to inspire her writing. Having gone through judgement, bullying, hate and loss, she learned to release her fear and anger to create a most self-aware individual. Additionally, she looks to celebrate the power of the spiritual and physical world while inspiring readers to find their own truth and purpose.
"We build our professional resumes to help others understand what we have gone through and what we have accomplished. The same can be done by examining our lives," Walker said. "The Résumé of Life helps one review and consider their own life's experiences in an effort to recognize their personal history, improve perspective and create a better future with that information, awareness and understanding."
For more information, please visit http://www.theresumeoflife.com.
"The Résumé of Life: Becoming Consciously Aware Through Spirit, Mind and Body"
By Terry J. Walker
ISBN: 978504391375 (hardcover) 9781504391351 (softcover) 9781504391368 (ebook)
Available at Amazon, Barnes and Noble and Balboa Press
About the author
Terry Walker began her career working as a probation officer for adolescents in the community. She also helped to develop a program for children and teens in the community in an effort to give kids alternatives to getting into trouble. She has worked as a therapist for children and families for more than 15 years and helped to develop alcohol and drug-abuse awareness programs for children and teens. She was a program director for a dual-diagnosis residential treatment center for adolescents where she developed therapeutic programs and provided individual, group, and family therapy. Walker holds a Master of Arts degree in educational psychology and counseling from Tennessee Tech University and a Bachelor of Science degree in mass communications from Middle Tennessee State University. A business owner (Inspire and Motivate, IAM, LLC) and motivational speaker, Terry is the author of two other books: Bridging the Gap: An Educator's Guide and Bridging the Gap: A Parent's Guide
Review Copies & Interview Requests:
LAVIDGE – Phoenix
Kalin Thomas
480-998-2600 ext. 540
kthomas@lavidge.com