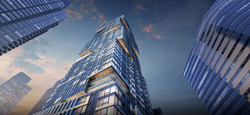 SEATTLE (PRWEB) April 26, 2018
Representatives of NEXUS, a 391-unit, 41-story next-generation high-rise condominium under construction in downtown Seattle, announced today that the Sales Center located at 2609 1st Avenue will close on June 30, 2018. Just 31 homes remain available for purchase and home personalization at the highly anticipated development. This is also the final opportunity to access the NEXUS Design Center, and Burrard Group will offer a $25,000 design credit on all remaining Sky Series Homes for a limited time. Remaining unsold inventory after June 30 will be reintroduced for sale with new pricing at a later date, closer to project completion.
"We are building into a rising market so as such we've decided to retire presales after June 30th and focus our efforts on construction and delivery of a top-quality product, on schedule," said Christian Chan, Executive Vice President at Burrard Group. "Before we close the Sales Center in nine weeks, buyers are encouraged to capitalize on introductory prices and with an ability to choose their preferred color schemes and choose from a suite of designer options. The tower is now quickly rising with first occupancy scheduled for the second half of 2019."
Burrard confirms 354 homes have been successfully presold with the following Sky Series Homes inventory available for a limited time only:

2 Bedroom / 2 Bathroom: 17 homes from $1,249,950 (945 – 1,455-SF)
2 Bedroom / 2.5 Bathroom: 4 homes from $2,099,950 (1,395 – 1,513-SF)
3 Bedroom / 2 Bathroom 6 homes from $2,100,000 (1,500 – 1,568-SF)
3 Bedroom / 2.5 Bathroom Last Opportunity at $2,595,000 (1,807 SF)
2 & 3 Bedroom Two-Story SkyLofts: Only 3 in building from $2,195,950 (1,504 – 1,732-SF)
The Sky Series Homes are a collection of typically larger floor plans, many that feature unique architectural attributes such as taller ceilings, private terraces or even two-story loft environments. A select number of penthouse homes on the 39th and 40th floor also feature enhanced appliance specifications including Miele appliances with gas cooking and natural stone countertops with waterfall island design treatment. All of the listed homes include one parking stall and many include the option for a second, contiguous stall offered at $75,000 – a rarity in today's development market. Burrard confirms that one penthouse unit combination of approximately 3,200 square feet was custom designed for nearly $5 million but given the construction schedule, no additional unit combinations can be accommodated.
Most notably, NEXUS is the only condominium high-rise being offered for presale and the only new for-sale offering to be delivered in downtown Seattle in 2019. The Seattle area housing market has led the nation with median home price increases for the past 18 months, rising by 12.7% year-over-year as of February 2018 according to the S&P/Case-Shiller Home Price Index rising to $820,000 in Seattle and $926,000 on the Eastside per NWMLS research. However, RSIR notes that home price increases are actually rising quicker in the center city market with resale condominiums in downtown Seattle climbing 19% higher in Q1-2018 over the prior year posting a median price of $687,500. Currently, there are only 58 resale units in downtown Seattle listed on the NWMLS with a median asking price of $986,500. The most recent Census data revealed that Seattle is ranked the fastest-growing large city in the US with a downtown population estimated at more than 80,000 residents. Research by O'Connor Consulting Group and RSIR are also tracking some 27,000 housing units that will be delivered in downtown Seattle during the current decade but note 94% of that supply will be built for rent and not for sale. Of the 496 new construction condominium units still being delivered before 2020, just 56 remain available for purchase in downtown Seattle.
"Burrard Group anticipated the condominium comeback and NEXUS is now well positioned to offer new inventory at a time of anemic supply," said Dean Jones, President and CEO of Realogics Sotheby's International Realty. "I can understand the preference to retain unsold homes and price in a progressed market closer to delivery. The market shows no sign of slowing down and current trends suggest values would be higher when they are ready for tours and immediate move-in."
Jones believes presales at NEXUS offer consumers an important opportunity to lock in a future purchase with a deposit that is relatively modest when compared to those required in other similar metropolitan markets. Once a buyer has secured their home for presale, they can plan ahead for their move and prepare any currently owned homes for resale within a rising market.
"One of the reasons there is so little inventory on the market is buyers worry about finding a replacement home in a competitive market," adds Jones. "NEXUS offers a compelling opportunity to either downsize from a single-family home or move-up from a current condominium through a presale. An initial five percent deposit is all that's required while Burrard builds your new home, with your choice of three color schemes as well as elegant, personalized options."
Prospective buyers are encouraged to register online for priority sales information at http://www.NEXUSseattle.com or contact Michael Cannon at 206.258.1088.
About Realogics Sotheby's International Realty (http://www.RSIR.com) - Artfully uniting extraordinary homes with extraordinary lives, Realogics Sotheby's International Realty is a leading global sales and marketing brokerage firm in the Pacific Northwest. Recognized by the Puget Sound Business Journal amongst the fastest-growing private companies in Washington State for the past five years the boutique real estate firm of 225+ brokers consistently rank among the top producing firms within the markets that it serves with branches in downtown Seattle, Bainbridge Island, Kirkland, Issaquah and Madison Park.
About Burrard Group (http://www.Burrard.com) – The Burrard Group has been consistently creating quality residential communities for 25 years and has built a diverse portfolio of master-planned communities, multi-family developments, high-end single-family residences and resort lodging properties throughout Pacific Rim gateway markets.
EDITORS NOTE: Development renderings, neighborhood aerials and additional market statistics are available upon request.