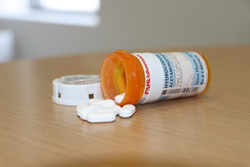 This is the safest way I know of to dispose of unused, unneeded, expired medications,no questions asked."
KANSAS CITY, Mo. (PRWEB) April 27, 2018
It's never a good idea to keep unused prescription drugs sitting around, but the opioid crisis heightens awareness of national problem in which everyone can do their part.
Larry Segars, Pharm.D., a professor of pharmacology at Kansas City University of Medicine and Biosciences (KCU), urges anyone with expired prescription medications or partial prescriptions that have not been used, to turn them in as part of the National Prescription Drug Take Back Day, Saturday, April 28, 2018.
"This is the safest way I know of to dispose of unused, unneeded, expired medications," said Segars. "No questions asked."
Prescription narcotics and opioids are useful for pain when properly prescribed and taken. But it's all too easy to see these drugs move from the family medicine cabinet into the wrong hands. "As honest as patients may be, sometimes their friends and family members are not as honest," said Dr. Kevin Hubbard, DO, a professor of oncology and hospice/palliative medicine at KCU. "Stealing old narcotics sitting on the shelf and not being used often comes with the realization that their absence will not be missed."
Beyond the potential of fueling the opioid crisis, Hubbard says it's important to remember that pain management is often a dynamic issue. Changes to the medication regimen are common, Hubbard said. "The risk of confusing old medications with new ones is high in this setting. This could result in pain that is inadequately controlled or in medications errors that can be harmful for the patient."
Hubbard and Segars say they understand the tendency to hold onto to medications "just in case it's needed," but the farther a medication goes beyond the expiration date the less you can know about its potency. They say taking leftover antibiotics instead of a full course of treatment can also lead to drug resistance.
For more information visit DEA Takeback site, which provides drop off locations based on zip codes across the country.