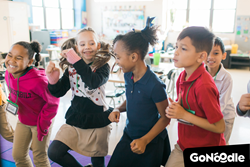 Since we know that regular physical activity leads to improved student health, focus and academic performance, we're delighted to be able to share GoNoodle with school districts in Northern Pennsylvania and Southern New York
SAYRE, Pa. (PRWEB) April 30, 2018
Guthrie has partnered with GoNoodle to get 50,000+ elementary age kids in the Twin Tiers Region of Northern Pennsylvania and Southern New York moving more at school and at home. GoNoodle's online movement videos and games get kids running, jumping, dancing, stretching, and practicing moments of mindfulness right next to their desks. Grounded in research, GoNoodle delivers proven results by bettering behavior, more focused time-on-task, and improved academic performance.
Through this 3-year partnership, Guthrie is fully funding the cost of GoNoodle's premium version, GoNoodle Plus, for all 185 public and private elementary schools in Broome, Bradford, Chemung, Cortland, Schuyler, Steuben, Sullivan, Susquehanna, Tioga County (NY), Tioga County (PA), Tompkins, and Wyoming Counties.
The goal of this partnership is to increase physical activity among kids. GoNoodle has hundreds of movement and mindfulness videos, and GoNoodle Plus includes additional games that bring movement and core-subjects together to develop fluency in grade-specific math and ELA topics. With GoNoodle Plus, Twin Tiers elementary teachers have the ability to customize GoNoodle content, which further supports their lesson plans and academic goals of the classroom.
"At Guthrie, we believe in helping every person attain optimal, life-long health and well-being. Our unique partnership with GoNoodle aligns with this mission and provides students with an opportunity to engage in physical activity in the classroom setting and at home. Since we know that regular physical activity leads to improved student health, focus and academic performance, we're delighted to be able to share GoNoodle with school districts in Northern Pennsylvania and Southern New York," said Frederick J. Bloom, MD, President, Guthrie Medical Group.
According to the CDC, only one-quarter of today's youth meet the current recommendation of at least 60 minutes of physical activity per day. Together with Guthrie, GoNoodle is helping local students earn vital minutes of physical activity with entertaining experiences that feature high-energy dance music, fitness routines, virtual field trips and physical challenges. Over 14 million kids play GoNoodle each month, generating over 6 billion minutes of movement in the past year alone.
"Regular physical activity is critically important to the healthy development of kids. And, we know healthy kids do better in school," said Scott McQuigg, Co-founder of GoNoodle. "Thanks to the generous partnership with Guthrie, it's great to see GoNoodle help make Twin Tiers classrooms active spaces where kids can earn important minutes of physical activity while also enhancing learning."
To use GoNoodle, teachers need to have a computer with an internet connection and a shared screen such as a projector or interactive whiteboard.  At home, kids can create and customize their accounts (with parent verification), and play GoNoodle online, on mobile devices, tablets or using Apple TV. Teachers, parents and kids can sign up for free at gonoodle.com. Courtesy of Guthrie, public and private school teachers, parents and kids in the 12 county coverage area will have free access to GoNoodle Plus by signing up at gonoodle.com.
About Guthrie
Guthrie is a non-profit integrated health system located in north central Pennsylvania and upstate New York, serving patients from an 11-county service area. Guthrie is a member of the Mayo Clinic Care Network, and is the first health system based in Pennsylvania and New York to join this network. Guthrie is comprised of a research institute, home care/hospice, hospitals in Sayre, Pa., Corning, N.Y., Towanda, Pa., and Troy, Pa., as well as a multi-specialty group practice of more than 300 physicians and 190 advanced practice providers in a regional office network encompassing 45 sub-specialty and primary care sites in 21 communities throughout Pennsylvania and New York. Guthrie offers a wide range of services and programs designed to enhance the health and well-being of those it serves.
About GoNoodle
GoNoodle (launched in 2013), gets kids moving to be their smartest, strongest, bravest, silliest, bestest selves. GoNoodle is among the fastest adopted online resources used by elementary teachers; connecting movement, mindfulness and learning for their students. Delivering measurable gains in academics and health, GoNoodle's 100's of short interactive videos and games get kids moving throughout the school day, keeping them energized and focused, while introducing curricular topics, practicing mindfulness or just getting the wiggles out. GoNoodle supports teachers in optimizing learning opportunities while creating a joyful classroom. Currently, more than 14 million kids and over 650,000 teachers use GoNoodle each month. GoNoodle is used in 80% of U.S. public elementary schools in all 50 states and worldwide in 185 countries. Over 2 million families use GoNoodle at home, turning screen time into active time, either through gonoodle.com, apps for the iPhone and Apple TV and through the GoNoodle YouTube channel. Learn more at http://www.gonoodle.com.