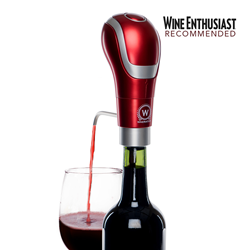 "The Waerator is a great high-tech gift idea for the wine lover that will keep on giving. And we're raising a glass to moms this May."
SOUTH BEND, Ind. (PRWEB) April 27, 2018
Waerator™, the maker of the world's leading electric wine aerator and the 3-in-1 electric wine opener, announces today a Mother's Day gift sale offering 25 percent off its W1 electric aerator and decanter exclusively on Amazon.com.
The Waerator W1, which retails for $59.99, will be available for $44.99 on Amazon from May 1 through Mother's Day, Sunday, May 13, 2018. As a bonus, the W1 will include a six-month subscription to "Wine Enthusiast" magazine.
"The Waerator is a great high-tech gift idea for the wine lover that will keep on giving," says Jason Wakefield, director of marketing. "And we're raising a glass to moms this May."
Both the original Waerator W1 and the refined Waerator W2 are capable of dispensing and aerating 60.9 to 67.6 ounces per minute, using air to instantly soften natural tannins that create bitterness in order to draw out every bottle's true qualities. Wine will instantly taste richer and fuller; there's no need to wait 30 to 40 minutes for wine to "breathe." Waerator also locks to prevent spills and seals the bottle so there's no need to re-cork.
The 3-in1 electric opener also makes a great Mother's Day gift idea, and will remove the foil, extract the cork and seal the bottle with an intuitive one-touch design.
WAERATOR MEDIA KIT + HIGH-RES PHOTOS
GET SOCIAL: @Waerator
ABOUT WAERATOR
Waerator is the maker of the leading electronic wine aerator and decanter as well as the 3-in-1 Electric Wine Opener. Waerator invites you to experience the luxury of wine as it should be: instantaneous.